Woodfire Italian Restaurant, Ellenbrook (Invited)
There's a warm sense of familiarity every time we walked into the Woodfire Italian Restaurant. It might be due to the warmth of the staff who greeted us or even the thought of knowing that we would be in the good hands of Chef Lorenzo Schiaffini making our food. Chef Lorenzo brought over his wealth of knowledge, experience and skills from working in South Africa and London's Jamie Italian restaurants.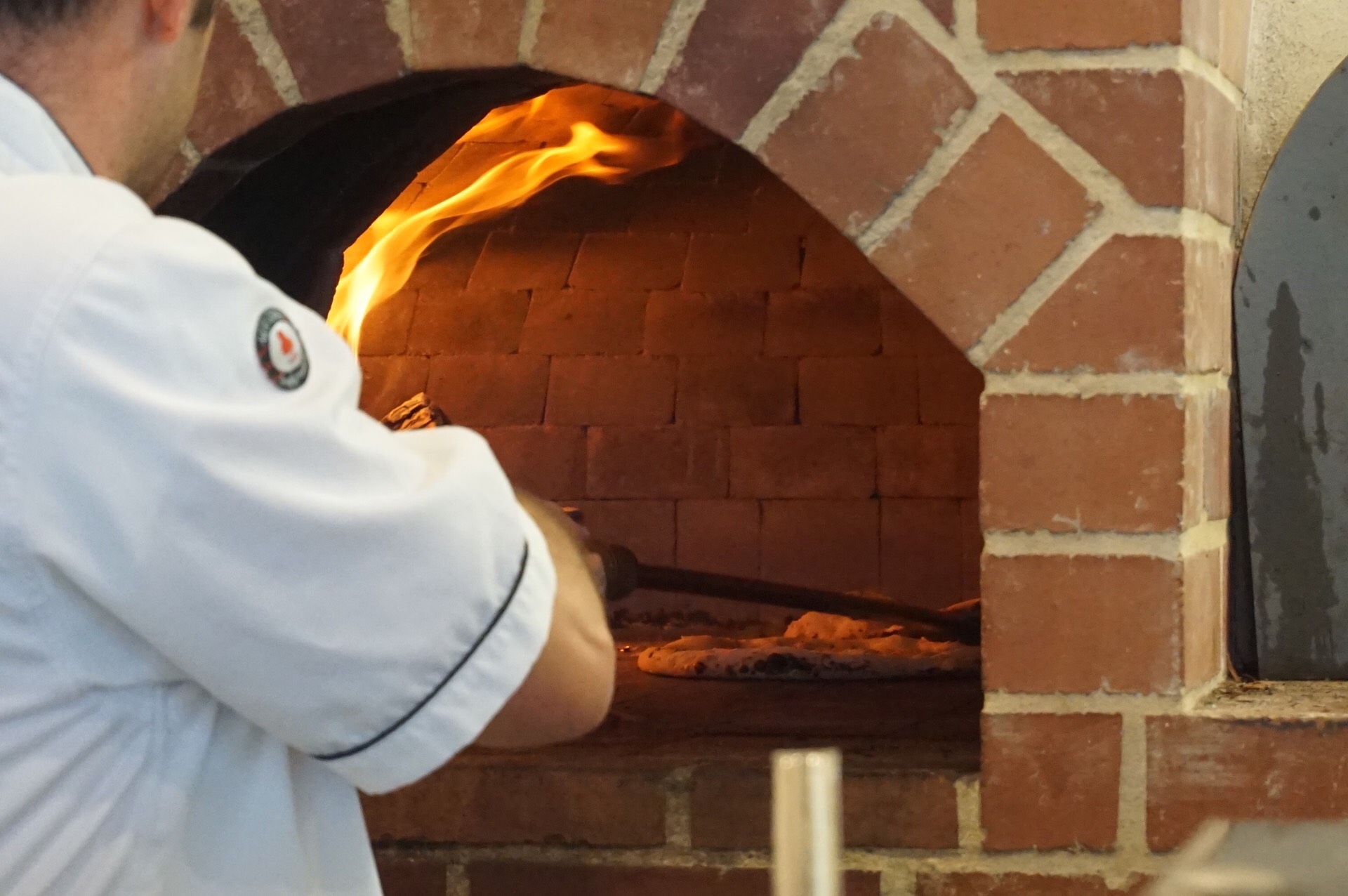 Woodfire is the perfect name for the restaurant especially with the hand-built woodfired oven and wood-fired pit situated right in the heart of their kitchen. After visiting the Woodfire Italian Restaurant twice, it's guaranteed that Chef Lorenzo can create any dish to satiate your craving of good Italian food.
Bruschetta Ai Pomodori
During our first visit we were treated to a very long display of Bruschetta with colourful toppings. This bruschetta consists of Woodfire's house-made focaccia with artisan ricotta, slow roasted tomatoes, chili, basil and buffalo mozzarella. Not only delicious but the display of this entrée definitely made us want to peek more into the other surprise dishes that was prepared later on.
Panfritto & Arancini
I was so excited when a simple Italian treat called Panfritto appeared in front of my eyes. The perfectly crispy on the outside pizza dough was served together with arrabiata sauce which gave a perfect finish of spicy and crispiness in my mouth. The same sauce was also used for the delicious golden Arancini which I couldn't get enough of especially with perfect mix of crispy skin and melty cheese on the inside.
Crochette Di Patate
The croquettes was a mixture of smoked mozzarella and potato croquettes appeared with creamy mushroom dipping sauce. The mixture of potato and cheese was so easy to eat and the sauce complemented it very well although I cheated and dipped mine into the leftover arrabiata sauce.
Lasagne
As for the main we got to try delicious lasagne that Chef Lorenzo created from Nonna Mari's recipe. Chef Lorenzo said that Nonna Mari's best Italian dishes was her homemade lasagne but she couldn't be trusted when it comes to making pizza (hahaha).
Woodfire's lasagne filling was rustic pork, beef, and mushroom which then served together with yummy parmigiana reggiano in tomato and mascarpone sauce. Compared to what I usually had, Chef Lorenzo's lasagne was quite light and very easy to eat. The best thing about this is that there's also a kid's version of this lasagne that was served with colourful rainbow salad.
Mushroom Risotto
When the very fragrant Mushroom Risotto made its way to our table, everyone knew for sure that the rice would be perfectly cooked. I stirred my spoon into the bowl of risotto and the dish had plenty of mushroom in it and when I took a bite it was definitely full of flavour. This was a five star risotto in my opinion!
Controfiletto
If you're looking for dishes other than pasta, then the Woodfire Italian Restaurant also has delicious Controfiletto that came with a mini jar of Marsala Jus. This dish consists of 300g of tender and juicy black angus striploin, served with fresh rocket, red onion and parsley salad.
Desserts Time!
I think I tried most of the desserts at Woodfire Italian Restaurant. When we first went there we really loved Chef Lorenzo's tiramisu, it was layers of Savoiardi biscuits with perfect ratio of mascarpone cream and coffee. This time my favourite was the Torta Di Mele or warm apple cake, another dish that was inspired from Nonna Mari and served with butterscotch popcorn.
I tried more dishes than what I mentioned in the above post and I can definitely attest to the deliciousness of light pasta dishes, the woodfire pizza, their grilled meats, desserts and even down to the freshness of their salad. Woodfire Italian Restaurant is a great family restaurant to visit and I hope many people will discover this hidden gem.