Whisk and Paddle
I've been wanting to visit Whisk and Paddle ever since I saw the green trees and the Punggol Serangoon Reservoir that was just within a stone's throw from the café. I almost took a taxi there but decided to use the MRT instead because it was about a 21 min drive from Lavender. So during our first day in Singapore I dragged Hubby along for a joyride to Riviera LRT. Don't worry, we had never even heard about the LRT line before today but the café was within 5 minutes walking distance from the LRT.
Whisk and Paddle was a popular choice for cyclist and families especially since it was a bit of a mini getaway place from the always busy city. I think a lot of people appreciate the change of scenery that they could find within the small area.
Service was really good and the staff was quite attentive as every customer were given glasses of cold water right as they sat down. There was a small kids' corner where little boys and girls can enjoy some activities using toys provided by the café. If you can't bear the humidity, there is also indoor seating available for customers.
One important tip: as soon as you get off the Riviera LRT, take a lift / stair down and use your google maps to locate the Punggol Police Station. Once you've found the police station, there's a restaurant complex nearby (Popeye's Chicken, Uncle Leong Seafood restaurant etc and you will see the Whisk and Paddle café soon enough).
FOOD
The humid weather made hubby crave cold drinks more than usual so he ordered a glass of yellow mango smoothie. I went with the black sesame latte instead, a drink that will certainly make a person conscious of having black sesame powder stuck on their teeth after a few sips. I like my black sesame latte since it wasn't too strong and it came with pretty coffee art too.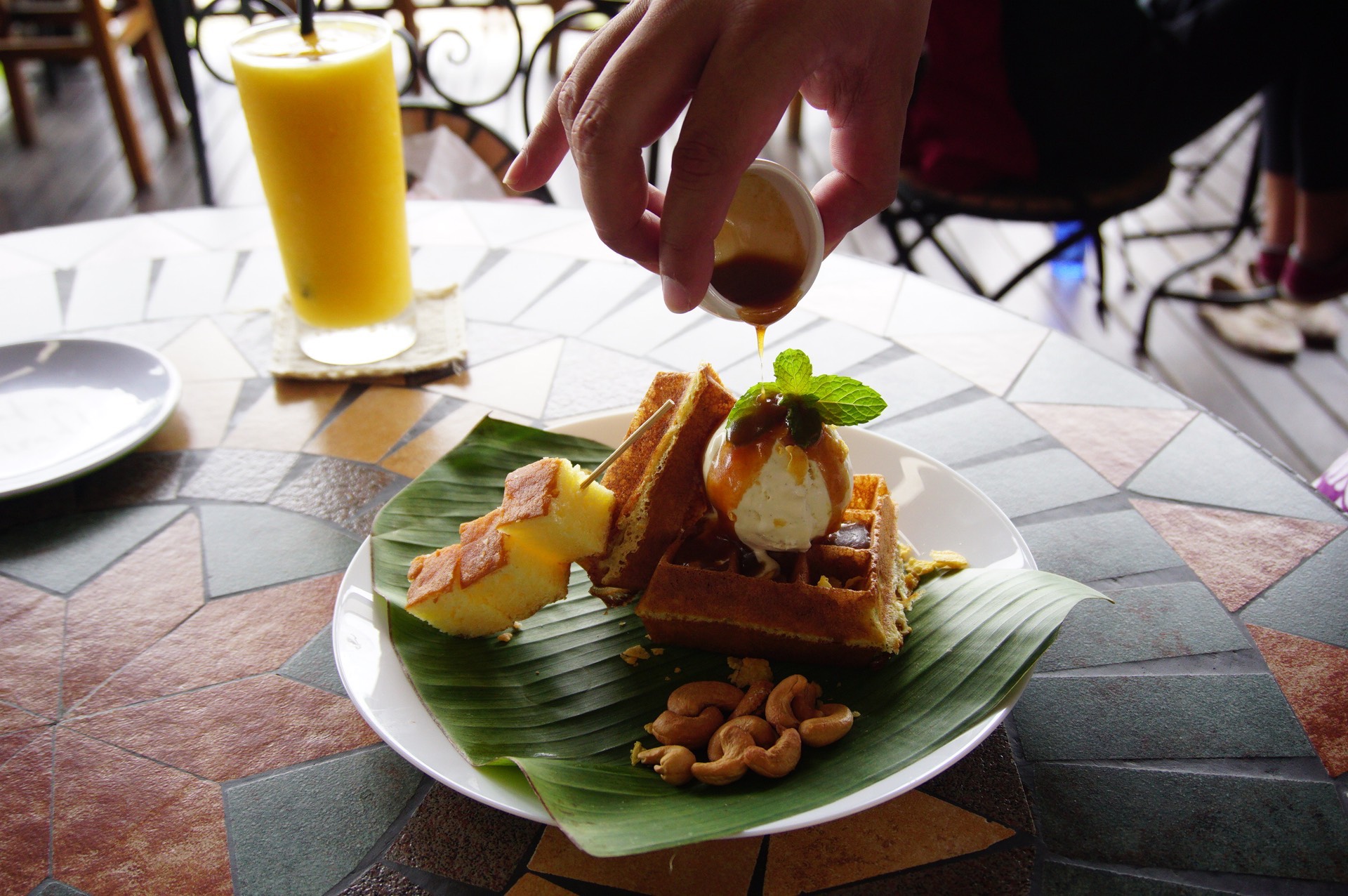 We tried the Pandan Melaka waffle that came with Movenpick Vanilla Dream ice cream, cubic butter cakes, roasted cashew, gula Melaka and bits of cornflakes. Today's waffle was crispy and it had a really good texture. The Madagascar vanilla icecream didn't disappoint too and to be honest it was probably the best vanilla ice cream that I ever tasted! Every material worked well together and also perfect to be shared between two people. Next time I will request an extra bowl of gula Melaka ;-).