Prego, Floreat (Invited)
We went to Prego on one Wednesday night when it was raining really hard and the cold wind was blowing everywhere. Closer to the footstep, Christian opened the door to Prego and let us in. I think he saw us struggling trying to fend off the rain and holding on tightly to the umbrella. Inside though, it was very warm, a welcomed change in 'weather' and exactly what we needed then. Hubby's waterproof jacket was saturated with water and as he took it off, Christian offered to hang it on an empty chair instead.
For a weekday, the restaurant was really busy with customers which I really liked to see. Busy but still leaving private space to its patrons at the same time. We were given a menu with explanations about the daily special dishes by one of the lovely staff. By the end of the night I forgot how many courses we actually had.
Our dining experience started with the falafel which was sprinkled with tomato, cucumber, onion salsa and hummus. I wish there were more but of course it wasn't right to ask for more when given a complementary dish (hehe…).
Hubby and I shared our starters. We tried the Moreton Bay Bugs served with avocado and chargrilled eggplant. I first tried Moreton bay bug more than 6 years ago in Dunsborough and I really liked the firmness of the flesh. Prego's version was definitely better especially when the acidic note from balsamic cherry tomatoes mixed together with the eggplant and the bay buys. Very delicious indeed!
Our second starter was some very delicious tortellini with a generous amount of grated Manjimup truffle topping. This dish was served with buttery porcini mushroom sauce and the flavour was just superb. It wasn't too heavy at all and the tortellini was very well made.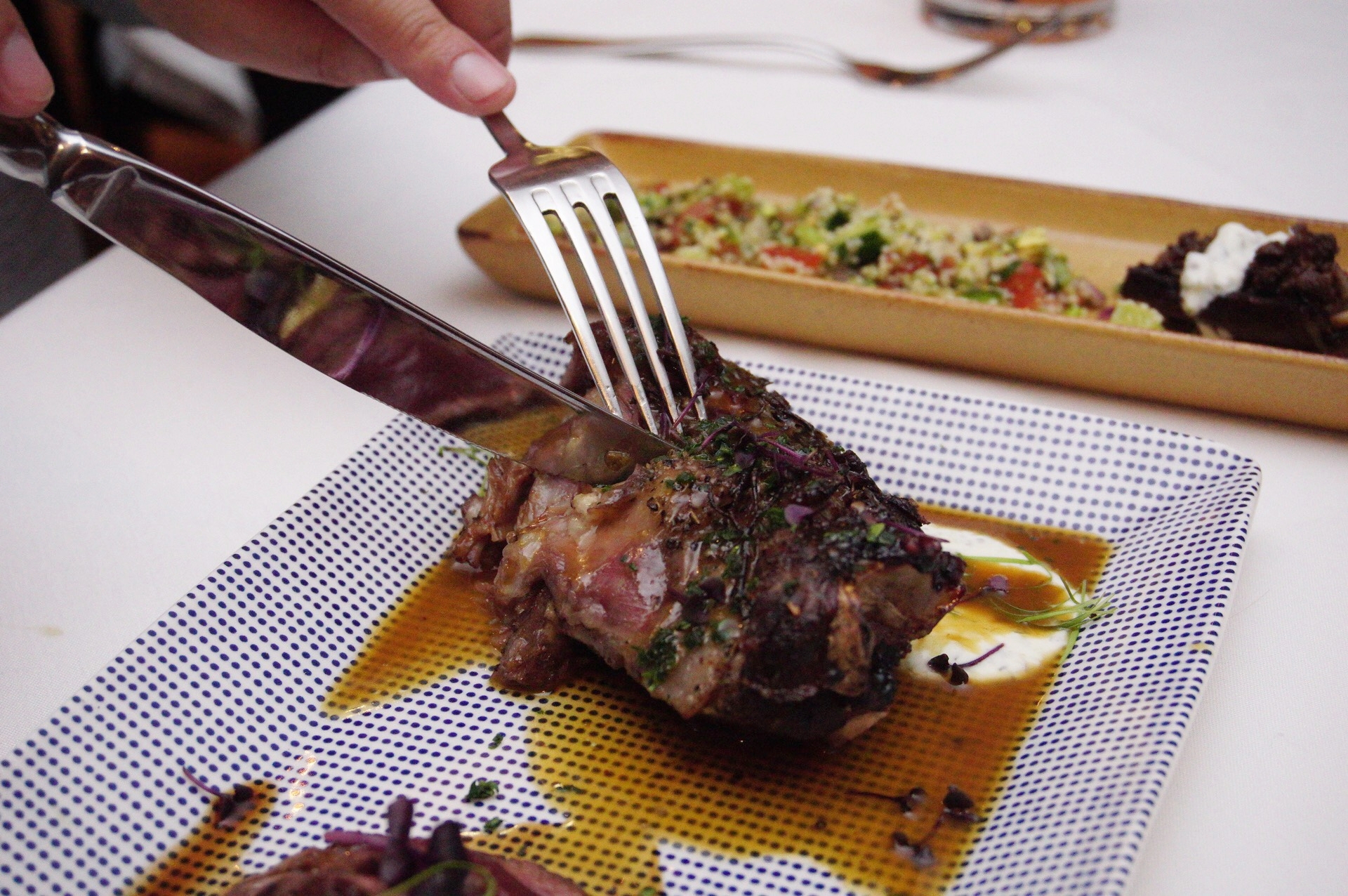 Hubby ordered the duo meaty dish which came with venison and tender thinly sliced beef. The beef was delicately seared on the outside. Chef Joe who's also the owner of Prego provided us with some couscous and a BIG dollop of truffle butter as a special treat which was very delicious!
I was so tempted to bring home the whole dollop and have it with some toast… If you're a meat eater like my Hubby then this dish certainly won't disappoint.
The famous twice cooked wood fire oven roasted duck from Prego didn't disappoint at all especially with a very tender meat and very crispy exterior! The baked polenta that came with the duck was sweet and mixed well together with the jus. My plate was completely cleaned out when they took it away, I bet the Chef would be proud of me…!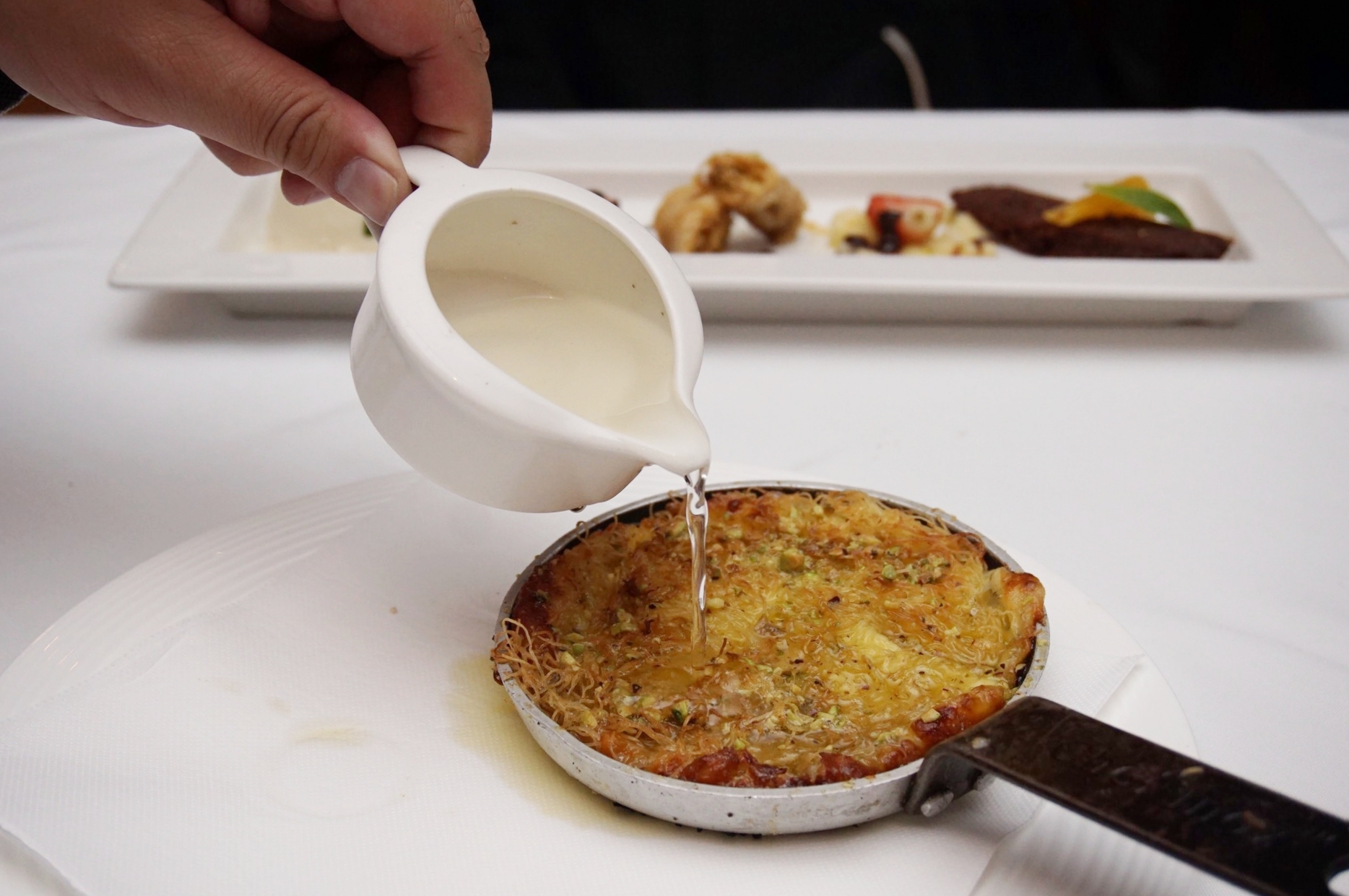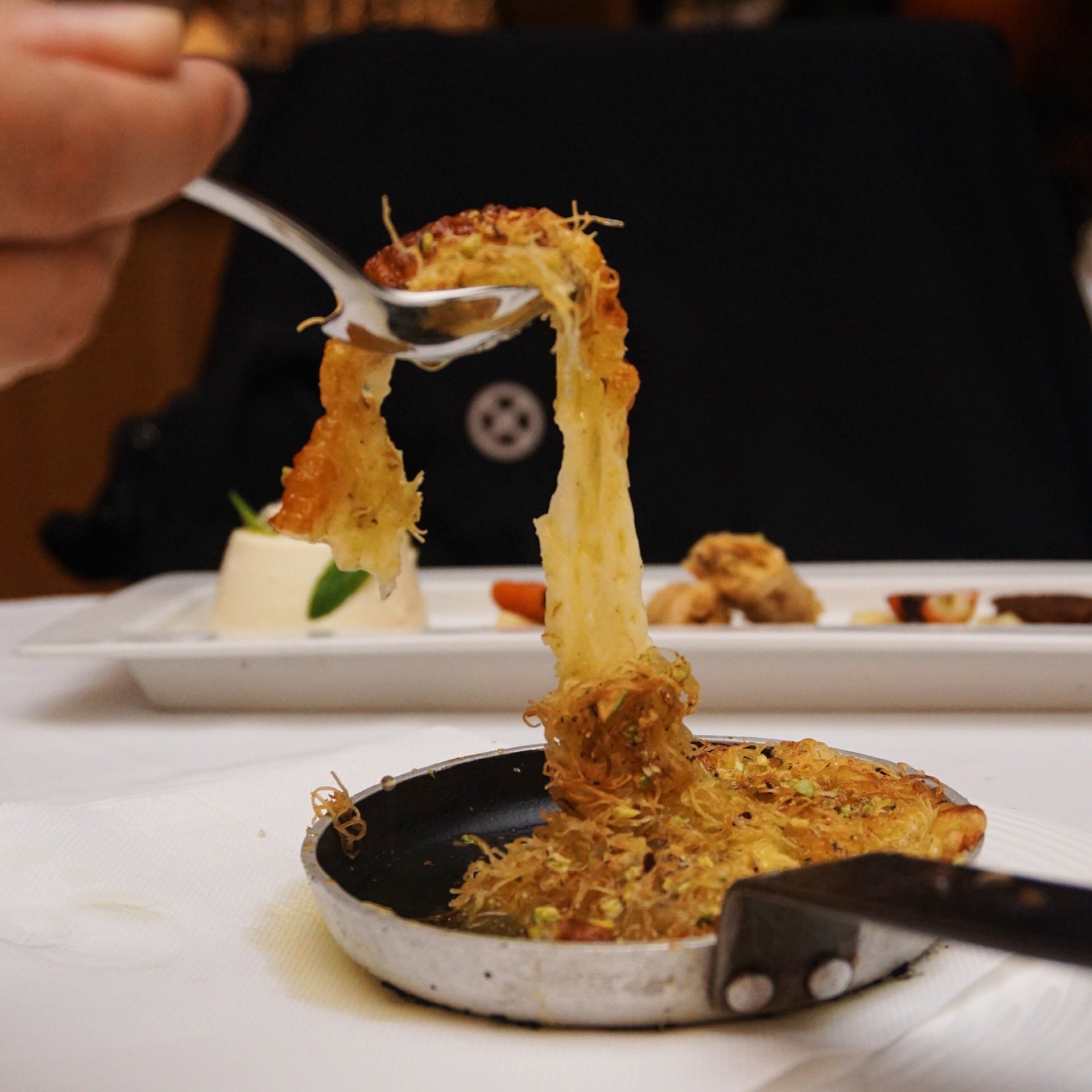 At the end of the night we were really full from all the delicious food that Chef Joseph Souti cooked in the kitchen but a good dinner wouldn't be complete without the presence of dessert. So I asked one of the staff for a dessert idea. He said I should definitely try the Kanafeh and that presentation wise the dish looked amazing. I agreed and it was a great Middle Eastern dessert with filo, haloumi cheese, roasted pistachio and spiced sugar syrup.
Christian attended to us when the dessert was brought to our table. He said he separated the spiced sugar syrup for us in case I wanted to take a photo of everything first (haha). That was a great idea though and I'd recommend other customers to do the same thing because that way you can taste the Kanefeh by itself first. Be careful with pouring the spiced sugar syrup as I found it quite sweet for my tastebuds.
I was curious about the rest of the dessert but Chef Joe probably read my mind. One of the staff brought out the perfectly presented special dessert platter with baklava, pannacotta and Belgium chocolate tarte. Chef Joe came out from his kitchen at the end of the night and he made his way around the customers' table.
Chef Joe was born in Israel and this was the reason why Prego, the 7 year-old restaurant, took on a fusion of rich Israeli cuisine which was traditionally eaten in Middle East and Mediterranean area.
Christian came around our table to check how we fared with our food. I ran out of vocabulary to explain that the food was very delicious especially coupled with great hospitality from the staff at Prego. Christian explained to us that all the staff at Prego was trained at the restaurant to adhere to the European hospitality standards.
Personally, I think the management at the restaurant must be really great for all staff to be able to smile genuinely while conversing with different customers on a busy night. We saw how they handled a conflict professionally when one of the customers wanted their food to be changed. Hubby and I didn't need to flag any staff and request for our humble glasses of water to be filled in. Thank you Prego, we really enjoyed our second time dining at the restaurant.