Dim Sum Buffet at Cherry Garden
I wanted to do something a bit special with Hubby when we visited Singapore so I decided to book Cherry Garden restaurant for dim sum buffet. It literally combines the two best things together: dim sum and buffet. Hubby was so excited for it and we even arrived at the restaurant 15 minutes before it opened for trading. We went for the first seating that started at 11 AM.
The restaurant was quite grandeur and calm at the same time. The dark wooden furniture gave a very classy feel to the whole restaurant. Hubby and I were used to the bustling dim sum carts and noisy tables. I think it was quite calm because there were only a few people that morning. We quite enjoyed the warm and luxurious atmosphere at Cherry Garden.
Yes, there wasn't any dim sum carts rolling around the place that morning. We ordered what we wanted off the buffet menu through the friendly staff. Our tea pot always got refilled promptly by them too. The menu also consists of soup & appetisers, desserts and other hot Chinese dishes (rice, congee, noodles, seafood, meat, vegetables).
We started off with something light so we ordered the rice congee and a serving of hot and sour soup. The rice congee came with the century egg and shredded pork while the hot and sour soup contained a good amount of seafood in it. Both items look small in the photo but the size of the serving bowl was actually really good.
We really enjoyed our deep fried Chinese-bun that came with chilli crab meat sauce. It was so yummy and if there wasn't any time limit on the buffet I'd just sit there and keep on ordering this dish (heheh).
We ordered quite a few dishes from the dim sum selection such as chicken feet in black bean sauce, pork siew mai with baby abalone, juicy pork xiao long bao, and the yummy deep-fried escargot dumplings. I never seen or heard of any escargot dumplings before so we decided to order it. It was a sweet and creamy surprise! The Kurobuta char siew bao had a really fluffy exterior and juicy sweet meats on the inside.
We really liked how the serving is suited for the number of people in your group. As it was only me and hubby, they gave us a small serving of the braised beef fillet. The beef was really tender and juicy.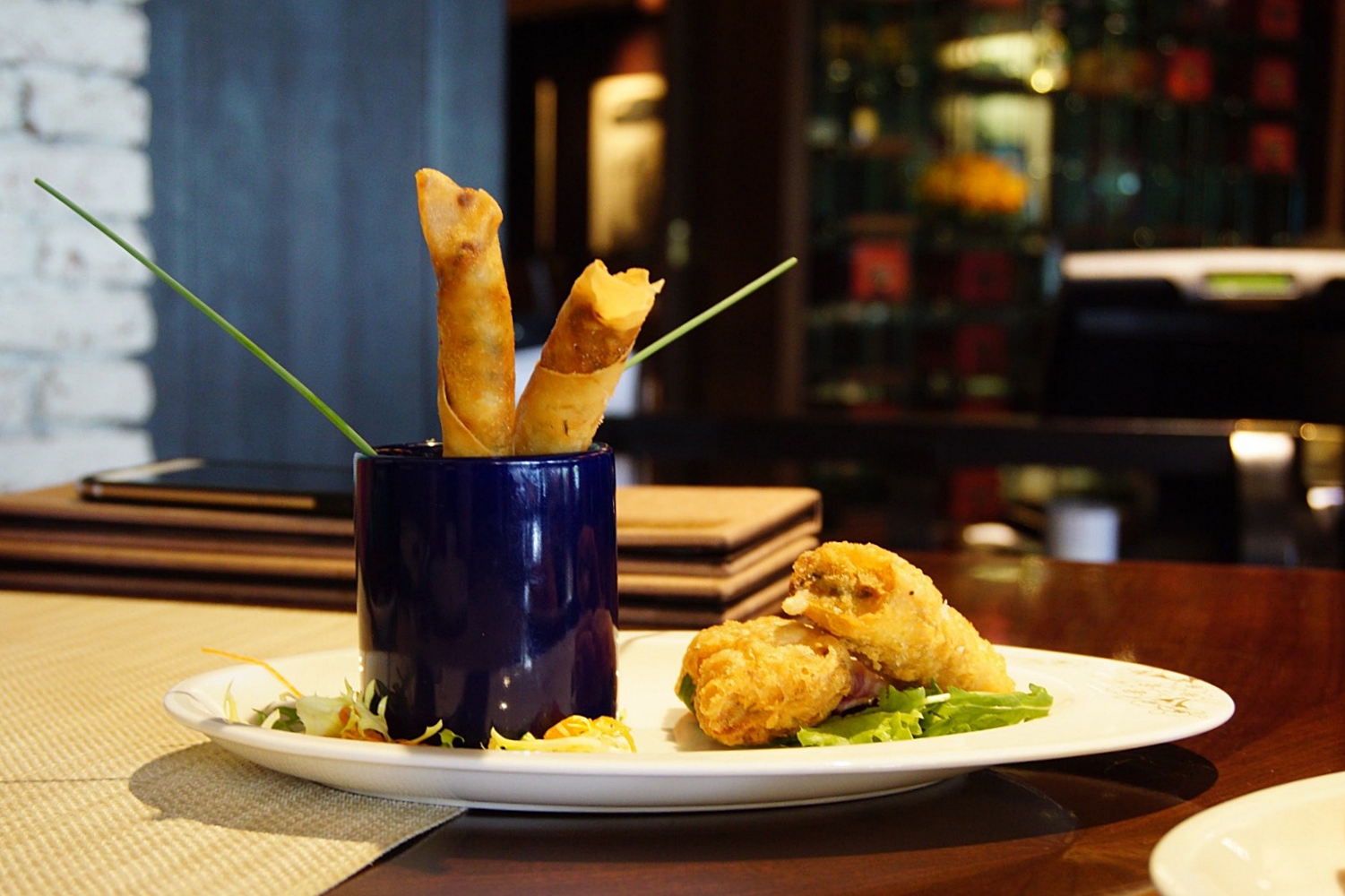 We really enjoyed our brunch at Cherry Garden and looking forward to go back there again next time we're in Singapore. The dim sum costs SGD $68 per person and there are two seatings available: 11 AM to 1 PM or 1:30 PM to 3:30 PM. It's definitely a great place to celebrate a special occasion as well although you might want to book in advance for weekend or public holiday seating.