Authentic Bites Dumpling House, Northbridge
I get excited easily at the mention of word 'dumpling' because it's one of my favourite dishes to eat. Dumplings are always great to have as a snack or side dish but it can also be substantial main dish as well.
Last Sunday we made a trip to Authentic Bites Dumpling House on Newcastle St and based on the name you can tell that this restaurant was very confident in declaring the authenticity of their dumpling. We were waiting for about half an hour before they had a table ready for us because there were 7 people in our group. Don't fret because the line moved really quick for a group of 2 or 3 people.
There's no booking accepted for this venue but we were rewarded by good dumplings. I really wanted something spicy so we ordered the boiled dumpling with pork and prawn filling. It created a great flavour and a good start to the rest of our dumpling adventure.
Throughout the restaurant we saw some staff in the kitchen folding the most anticipated dish of the day: Xiao Long Bao. When we received the Xiao Long Bao, we could see that every dumpling was folded neatly and the skin had just the right thickness. We ordered all three different flavours of XLB, every flavour was really delicious. My favourite is still the original pork meat XLB and the flavour was retained really well inside the dumpling.
Our next dish was the pan fried dumpling and it was my first time to see the dumplings served in such a way. We tried the new kimchi pan fried dumpling which was delicious and each dumpling was packed well.
HOW TO EAT Dumpling / XLB Inexology's way:
1. Use the chopstick and grab the dumpling just under the knot
2. When it comes to XLB I always dip it in the vinegar sauce which was mixed with ginger
3. Then I put the dumpling on the duck spoon
4. Take some slices of ginger and put it on the dumpling
5. Then eat :) and enjoy the explosion of flavour inside your mouth
OR
HOW TO EAT Dumpling / XLB Din Tai Fung's way:
I saw this diagram when I went to Din Tai Fung which makes a lot of sense too:
1. Mix soy sauce, vinegar sauce and sliced ginger together
2. Use the chopstick and grab the dumpling just under the knot, then dip it into your sauce
3. Put your dumpling on the duck spoon and pierced a small hole using your chopstick
4. Gently press the dumpling until the broth comes out on the spoon and sip it
5. Then eat :)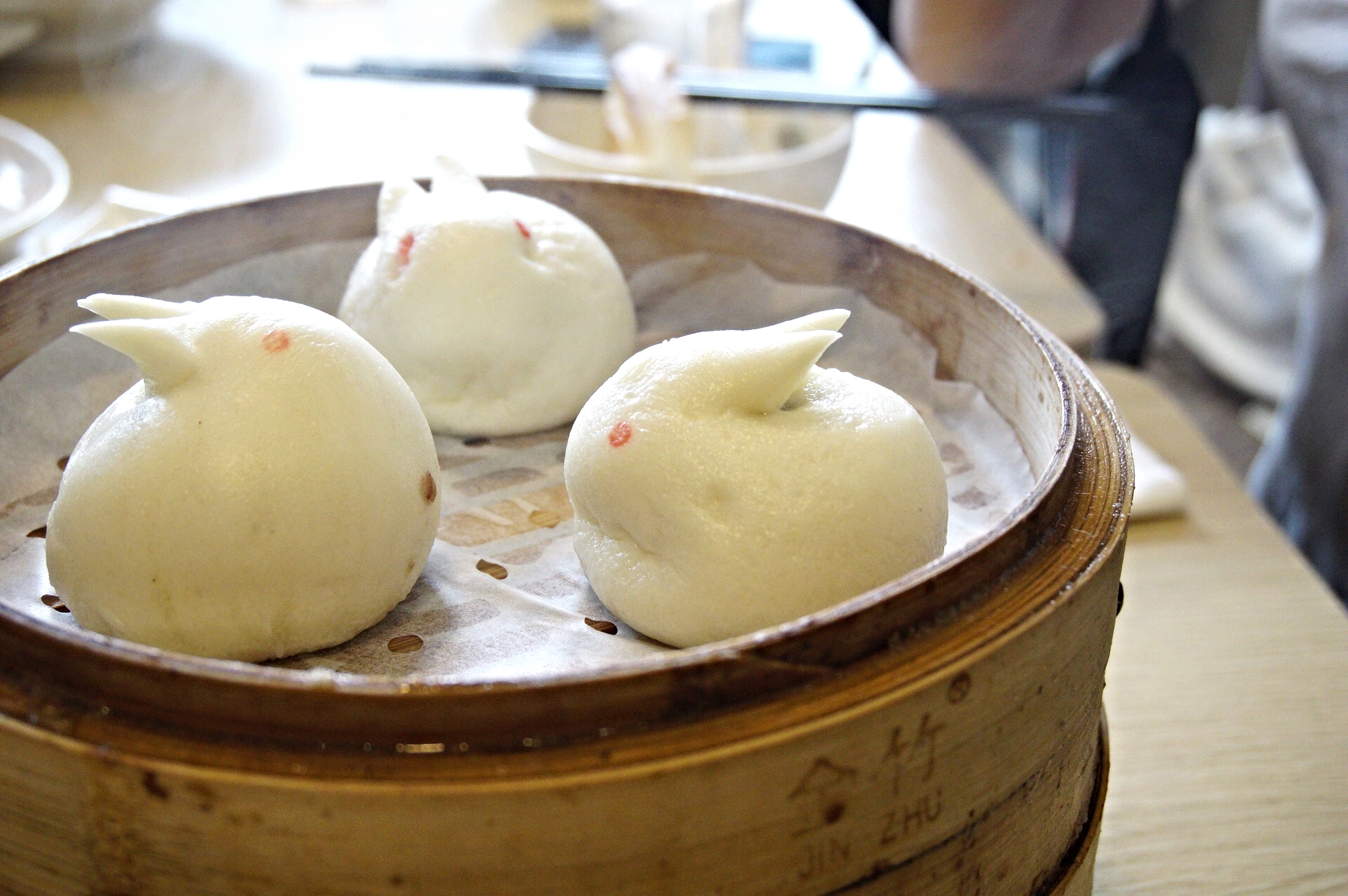 We finished off with adorable red bean bun in a shape of white bunny! The sweetness of the red bun was perfect and kids will definitely fall in love with the shape as well!
Some side dishes that we tried on the day: a serving of very fresh cucumber salad on the side, tofu and century egg, a bowl of hot and sour soup (I'd like this to be more sour ;-)), delicious and light noodle with dumpling and liquor-soaked chicken. Bonus: free tap water and hot tea is available at the restaurant.