Honke Owariya, the Oldest Soba Restaurant in Kyoto
Honke Owariya started their business in 1465 but they started as a confectionery shop instead of a soba restaurant.
Back then soba was made solely in temples in Kyoto but due big demands, the task of making soba was passed on to different confectionery shops around the Kyoto area. Honke Owariya's soba quality must be really exceptional because they were able to sell their soba noodles to the Imperial Palace. Until today, Honke Owariya still sell other confectionery items such as baked soba and soba rice cake in their shop.
We arrived in the afternoon at Kyoto and we walked to Honke Owariya from the train station. We were anticipating a long queue but we didn't see any queue outside of the shop. Google maps took us to the building on the left of the restaurant. This original shop was built in the early Meiji period. We left our luggage downstairs and was ushered to the second floor where there were table seating available. This shop opens everyday and only close on the 1st and 2nd of January.
When entering the restaurant there was a Buddhist sutra on your right as well as some flour and table. Soba is heavily associated with temple food in Kyoto and every month, a Buddhist monk comes to the shop to chant a sutra before they eat the soba dish of their choice.
Honke Owariya sells their dashi and soba noodle. I should have bought one or two sets because I really missed the refreshing soba taste that they had. In my travels in Japan, I didn't found any other soba restaurant which sold soba as fresh as the one at Owariya.
The staff gave us the English menu which was really helpful but I already knew what I wanted to order. It was the cold Hourai soba that came with 8 small toppings of delicious shiitake mushrooms, shredded omelet, shrimp tempura, nori, wasabi, grated daikon, sesame seeds and green Japanese leeks. I saw a lot of locals had ordered the same dish for lunch as well.
Hubby ordered a bowl of Shippoku, a kake soba with thick soup in Yuzu peel aroma. It came with some toppings of Kamaboko (similar to fishcake), shiitake mushroom, thin omelet and mitsuba (similar to parsley). Hubby really enjoyed the broth and his soba.
When my hourai arrived, I couldn't contain my excitement. The soba noodle was presented on a tall black tower and 8 different toppings was served on a separate platter.
The 8 toppings from top left were nori (seaweed), shrimp tempura, wasabi, sesame seeds, shiitake mushrooms, shredded thin omelet and in the middle we had grated daikon (radish) and Japanese leeks. I was so excited to start but I made a noob mistake of putting too much of the toppings on my first plate.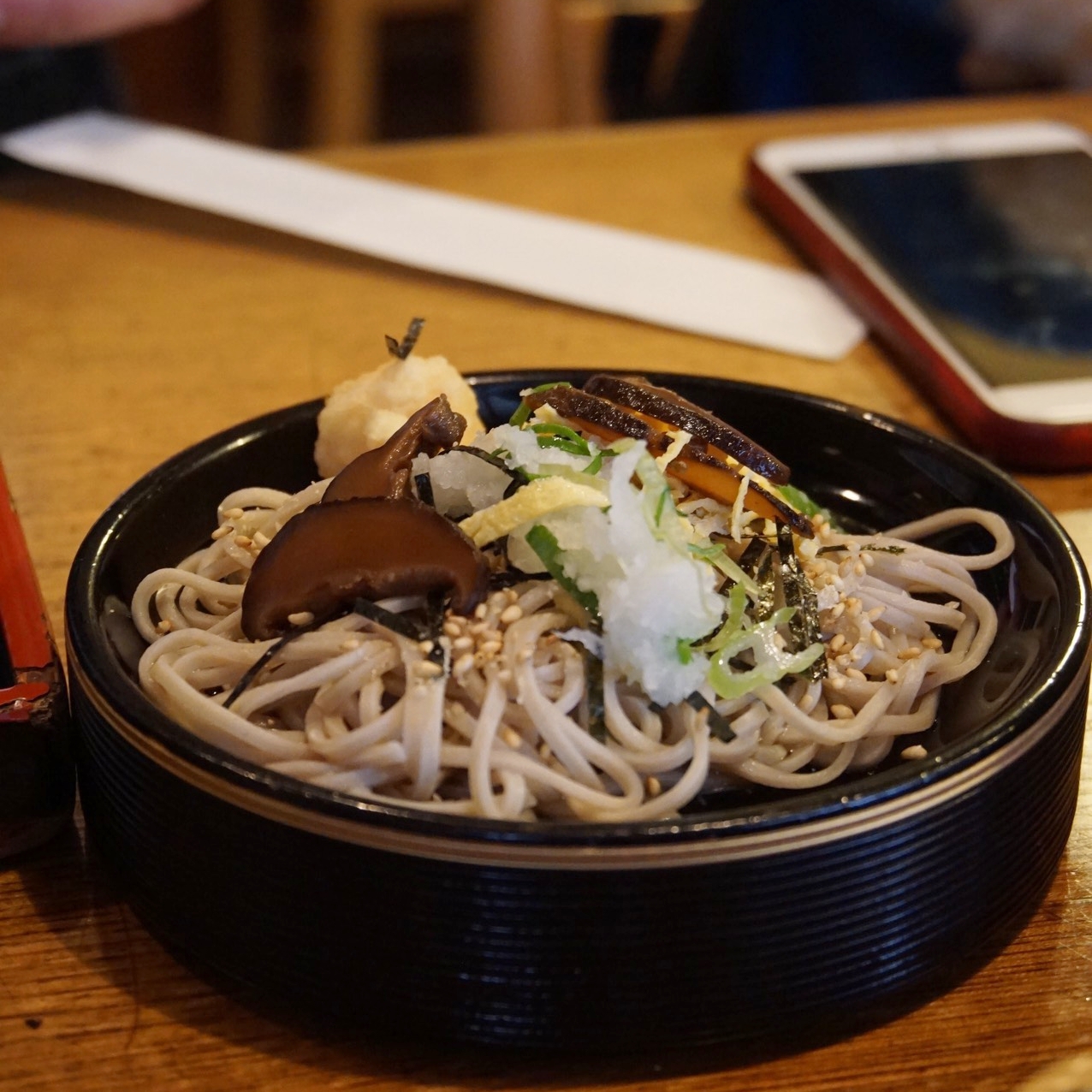 I finished the whole set and I was really happy with the experience. Hourai soba is the most expensive item in the menu with the price tag of 3,024 yen or about AUD $34 but most items are between 800-1,100 yen (AUD $9-12).
Honke Owariya will turn 552 years in 2017! This place is definitely a must visit for anyone who plan to visit Kyoto. The food was very enjoyable, the staff were really friendly and I will definitely go and eat soba again at the original shop one day :-)