Boy'N'Cow Meat Boutique, Seminyak
Boy'N'Cow is the latest addition to the dining scene of Seminyak, Bali. As a meat boutique, they specialised in 28 days dry-aged beef with a 350g cut as their standard steak size, the 'cut above the rest'. Not only their steak, but the side dishes that they offer were also delicious.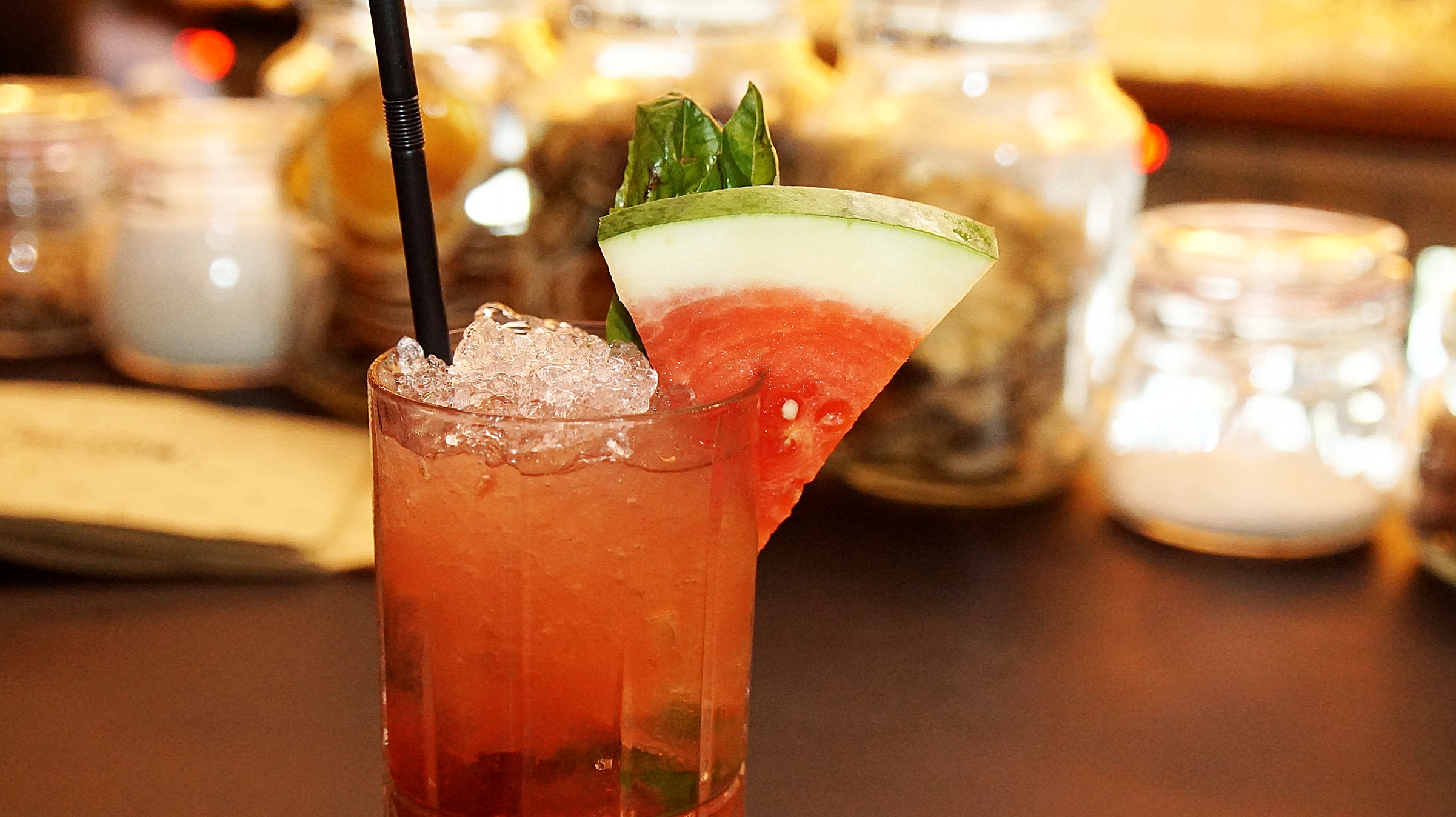 The cocktail lounge with the talented bartender is on the second floor of the industrial style restaurant. We started our night there. I tasted the refreshing Semangka Mojito, which was a combination of light rum, watermelon, basil, ginger beer and caster sugar. If you're looking for a refreshing cocktail, this is the one that you want to choose.
Another one that I tried was the Man in the Hat. Served in a short glass, it was a very masculine drink and very smooth. The orange bitters worked well together with walnut and dark cacao infused bourbon, cherry bourbon and sweet vermouth. You can also ask the bartender to create a custom cocktail for you according to your taste buds and mood of the night :-D Other than cocktails, they also have a good list of whiskey, wine, some beers and other spirits available.
Downstairs, a table of five was prepared for us. There was a railing system installed under the table so a communal table can be created quickly. Get ready, you will see heaps of food photos from here onwards.
For our dinner, we had a few delicious starters. It's hard to find one that stood up the most. The pretty steak tartare was served with truffle oil, toast, horseradish and shallot. The combination of all of the ingredients works well together.
The tuna tostada was a very refreshing cold starter. We enjoyed the chilli aioli, avocado, cucumber, sesame seed and salmon roe toppings. Burrata cheese was always a treat to have, especially with its soft texture. It was presented with heirloom tomato, balsamic, basil and olive oil.
I really liked the baby octopus that was served with chorizo, potato cream and herb salad. The octopus had enough chewiness and tasted so delish with the chorizo and potato cream together.
The beef sliders were a perfect sharing dish especially since each was packed with cheddar, tomato jam, shaved shallot, pickle (yes!) and tasty garlic mayo. If I didn't have too much food on the table, I'd be able to enjoy two sliders on my own.
Chef Danny Chaney prepared another dish which was a plate of seared ahi tuna. The fresh and delish fish went well together with the wasabi. The wasabi wasn't too peppery and had a bit of sweetness to it.
The sharing side dishes that we had that night were garden salad, mashed potatoes, wedges and one of the most delicious mac n cheese. The mac n cheese was a must to order, it came with smoked bacon and topped with an egg. I could really taste the smokiness. Of course, we had to do a yolk porn shot with the egg (hehe).
The beef whisperer, Chef Danny Chaney prepared two different dishes. The first one was US 900 gram bone-in ribeye. The menu states that this was a great sharing dish for 2-3 people. We also had the organic grass-fed AUS 350 gram striploin.
The organic grass fed was really tender and full of flavour. It was juicy and served with chimichurri as well as bearnaise sauce on the side. I was so happy especially since those two were my go-to sauces for steak. It'd be great to have this steak with just a tiny pinch of salt too.
The ribeye was so yum, it was cooked perfectly, and the pink colour was showing really well as a result. I also liked the crusty outer of the steak. The steak was rubbed with the signature steak rub created by Chef Danny. I wondered what he did to it, the seasoning was perfect. The tender beef didn't need to be dipped in any sauce at all.
After the mini feast that we had, it was only right that we finished the night with a sweet note. Andoo ordered a bowl of mango sorbet. The sorbet was accompanied with raspberry coulis, vanilla berry compote and crumbles. All ingredients complement the mango sorbet really well.
I opted for the coffee creme brulee that was served with strawberries and espresso foam. The espresso foam completed the brulee really well. It balanced out the sweetness of the brulee. I wish I could have more of the yummy foam.
The boy, Chef Danny Chaney, was a great host and very hospitable. The chef had a great personality that also shone through his food. Previously, he was the head chef for Blue Butcher and Brickhouse in Hong Kong, and one of the 10 HK chefs to follow on Instagram.
We had a really great night at Boy'N'Cow. The metal and wood interior by A and Partners looked terrific for the industrial mafia look. I think Boy'N'Cow provides a really great atmosphere for diners. It can be an all-in-one place where you can have great drinks, shared plates, excellent beef for carnivores as well as vegetarian and non-beef dishes.
Thank you for welcoming us, Boy'N'Cow and can't hear to see how the menu unfolds even further under the direction of Chef Danny. Don't forget to make a booking through their website: https://www.boyncow.com/ and check Instagram for promotional codes.