Jamae Guksu, Delicious Noodle in Jeju (자매국수)
On our second last day at Jeju we tried to find Guksu Geori (Noodle Street) at Jeju and we drove past the same area twice. We weren't sure which one was the noodle street so we decided to just park somewhere and walked around the area. There was a couple who was walking in front of us and we just followed them. They arrived at the restaurant which had a very long queue. A long queue is usually a good sign of great food so we joined the queue as well.
I walked inside the restaurant and informed the staff that we needed a table for two. She showed us the menu and I assumed she wanted me to choose right there and then. So I pointed my finger to the Bibim Guksu (비빔국수 / mixed spicy noodles) and Gogi Guksu (고기국수 / pork noodle soup). She gave us number '23' and she said she'd call us when the time comes.
We were waiting outside for a good 40 minutes before a table got cleared up. The staff then brought some side dishes and our bowl of noodles came really quickly. I didn't see any foreign tourists so I assumed that the restaurant was really famous with the local people. There were some customers who also ordered extra for takeaway.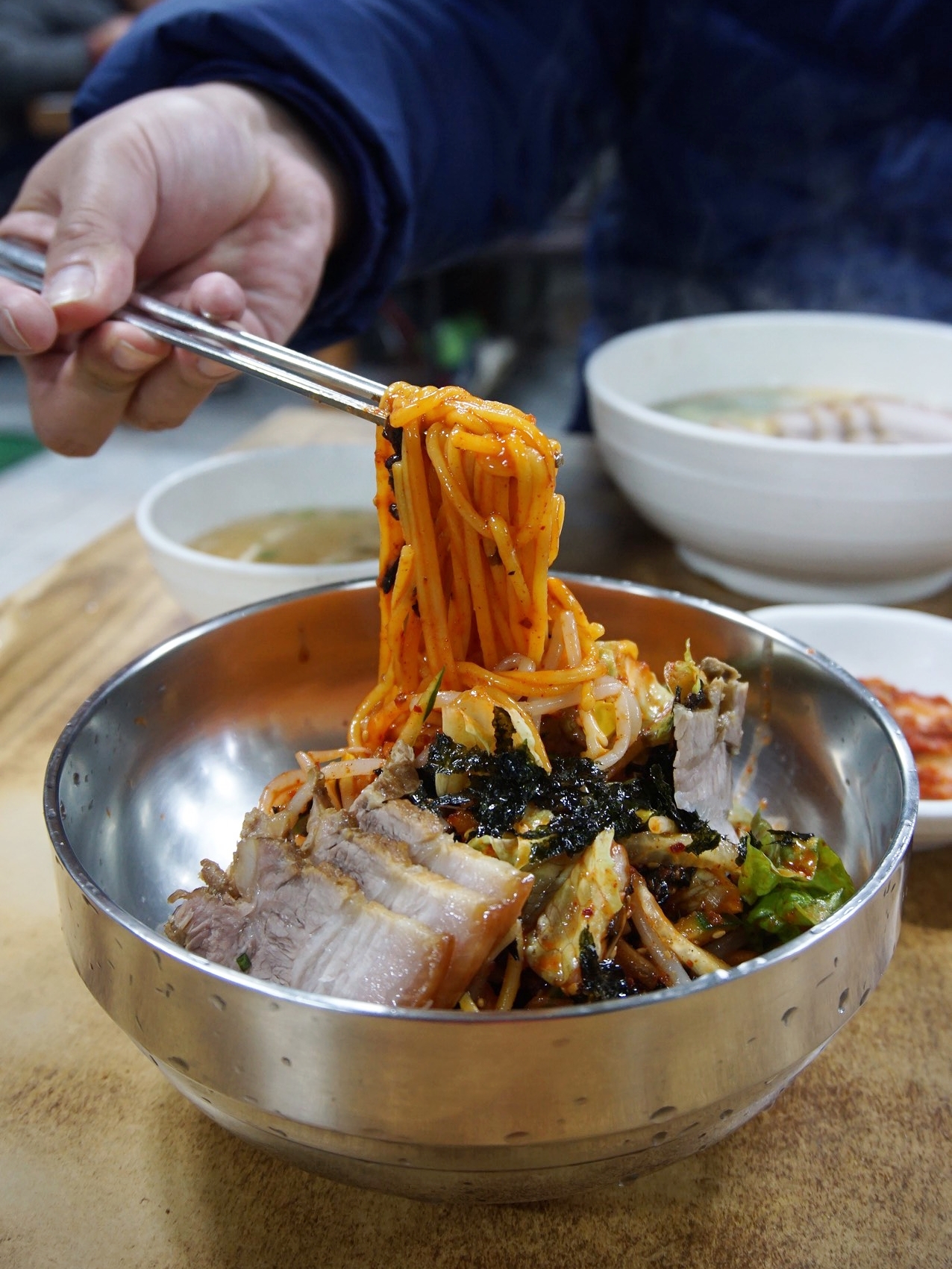 Hubby's Bibim Guksu was so delicious and invigorating, this dish would be perfect for a hot summer in Jeju. It was a cold noodle which was served in a stainless steel bowl and had a mixture of vegetables such as cucumber, kimchi cabbage, lettuce and mung bean sprouts. This noodle also came with some pork belly slices.
My Gogi Guksu, which was one of the traditional food of Jeju, came with some slices of pork belly in light milky pork broth. It wasn't salty at all and quite soothing for the body. If Bibim Guksu is a perfect summer dish then the Gogi Guksu was the perfect winter dish.
The price of the food was really cheap, we spent 7,000 KRW per bowl of noodle which is equivalent to less than $8. Do not miss out on this restaurant when you visit Jeju Island. My only regret was that we didn't go back there for another meal. If you want to punch in the phone number into the GPS, it will be: 727-1112.
Just click on below banner if you're looking for discounted tickets for more Jeju attractions, it helped a lot to plan the itinerary in advanced :-)