Panda & Co, Bulwer St
Andy Ngo is the proud owner of Panda & Co and everyone who has come across him will say that he has great personality. I met him a year ago through a random breakfast affair that was arranged for a couple of foodies at The Mantle. That was the first time I heard about Panda & Co. Panda & Co's Instagram account appeared way before the establishment of the restaurant and after many hurdles with the council, the restaurant finally opened its doors in December 2016.
The cute menu that Panda & Co has says that the restaurant serves inauthentic Asian dishes. I was really excited to try some dishes especially since I knew Andy to be quite a creative guy (please don't mention this to him... ever).
We were so lucky that Andy just added the Brekky Puffs into Panda & Co's menu during our visit there. So we decided to order it. The bacon jam that accompanied the puff pastry was so yummy. We found out that the best way to eat this was by using our own bare hands.
The Reuben's Rolly Pollies was a cute variation to the usual Reuben's sandwich. The spring roll consists of cheese and corned beef. This dish came with Big Mac inspired sauce which was so yummy! We finished this really quickly while it was still warm!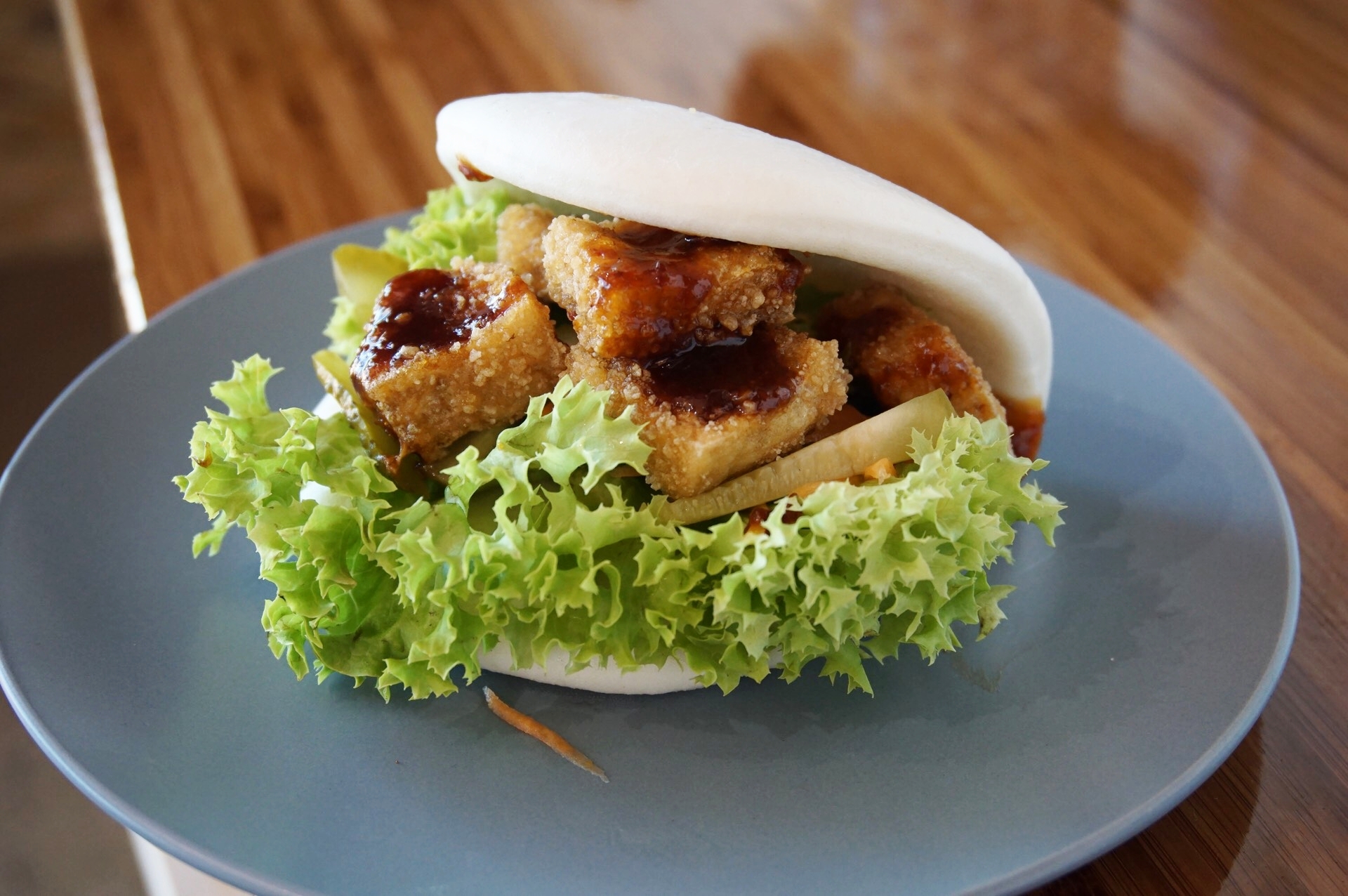 Hubby said we should try the bao as well so he chose the breakfast bao and I went for the Teriyaki tofu bao. I'm so weak against tofu, it's definitely one of my favourite food choices. All baos at Panda & Co costs $7 with the exception of fried ice cream bao ($8) and soft shell crab ($9). The breakfast bao came with bacon, egg and mizuna leafs. I think it's a good price for the portion and definitely a quick breaky option for morning coffee run. I like my teriyaki tofu bao especially since there was just enough sauce on the tofu.
I ordered one iced mocha on the side which came with the upside down milk bottle. Yes, it tasted just like a normal iced mocha but with a creative twist to the presentation. So, why not ;-).
I got a chance to try the K.W.O.M.D (Korean Waffles of Mass Destruction) on my second visit to Panda & Co. The waffles were a combination of rice and gochujang sauce. It also came with some vegetables on the side and the runny egg yolk.
I found a lot of charging stations at Panda & Co, there are probably about 10 sockets available just outside the rest room. I tried a couple of them just in case it was a phony charging station (heheh). Rest assured, the one that I tried worked properly. Andy found out about what I did and he confirmed that every charging station was fitted accordingly.
Panda & Co is a great cafe to hang out and can be really busy in the afternoon. We were waiting for about 20 minutes during our second visit. If you really want to secure your spot, coming early in the morning will be a good idea. There are a lot of interesting inauthentic Asian dishes in the menu that I have still yet to try, so I might bump into you one day!