Samson's Paddock, Mosman Park (Invited)
Ten years after the Swan Location 83 (where we are located today) was first allocated to new settlers in 1831, Lionel Samson purchased the title for the grand sum of 10 pounds. Samson began farming the land and it wasn't long before people started calling it "Samson's Paddock". With the land being perfectly positioned and Samson being quite the entrepreneur, Samson's Paddock soon became a popular watering hole for both horseman and horse. Whilst their horses rested and took in some water, the men would pop in for a refreshing beverage (or two) before continuing their journey. -Samson's Paddock.
Okay, the whole background story really won me over and it was one of the reasons why I couldn't wait to visit Samson's Paddock. The restaurant was a really great hangout place. It was quite big, spacious and allow diners to sit indoors or outdoors. If you're a wine and whisky drinker, you'll be quite happy with the extensive list that they have in their menu.
We visited Samson's Paddock on one Sunday to check out their food and we left with a very happy feeling. We didn't waste our time at all because each dish was just so superbly delicious.
Samson's Paddock was divided into two different areas, the upper outdoor dining area and the indoor dining area. We chose the table closest to the kitchen area, near the big wooden shelf where they put some board games, cutlery and throws (for those days when it gets a bit chilly).
Our first dish was the Salmon and Ginger Rice. The salmon was seared lightly and accompanied with avocado and sugar snow peas. The whole thing was so delectable and moreover, the presentation was so beautiful. I never seen any photo of it before but when the dish was brought out from the kitchen, we were so wowed by it.
That same feeling transferred to the next dish that we ordered which was the pork belly in honey tamarind sauce. This dish also had some corns and peppers on it. I started to take more notice of the little details that they put in such as the choice of relish, vegetables, herbs and even plates / serving dish. The sweet and sour sauce was really on point on the pork belly. I really enjoyed this dish.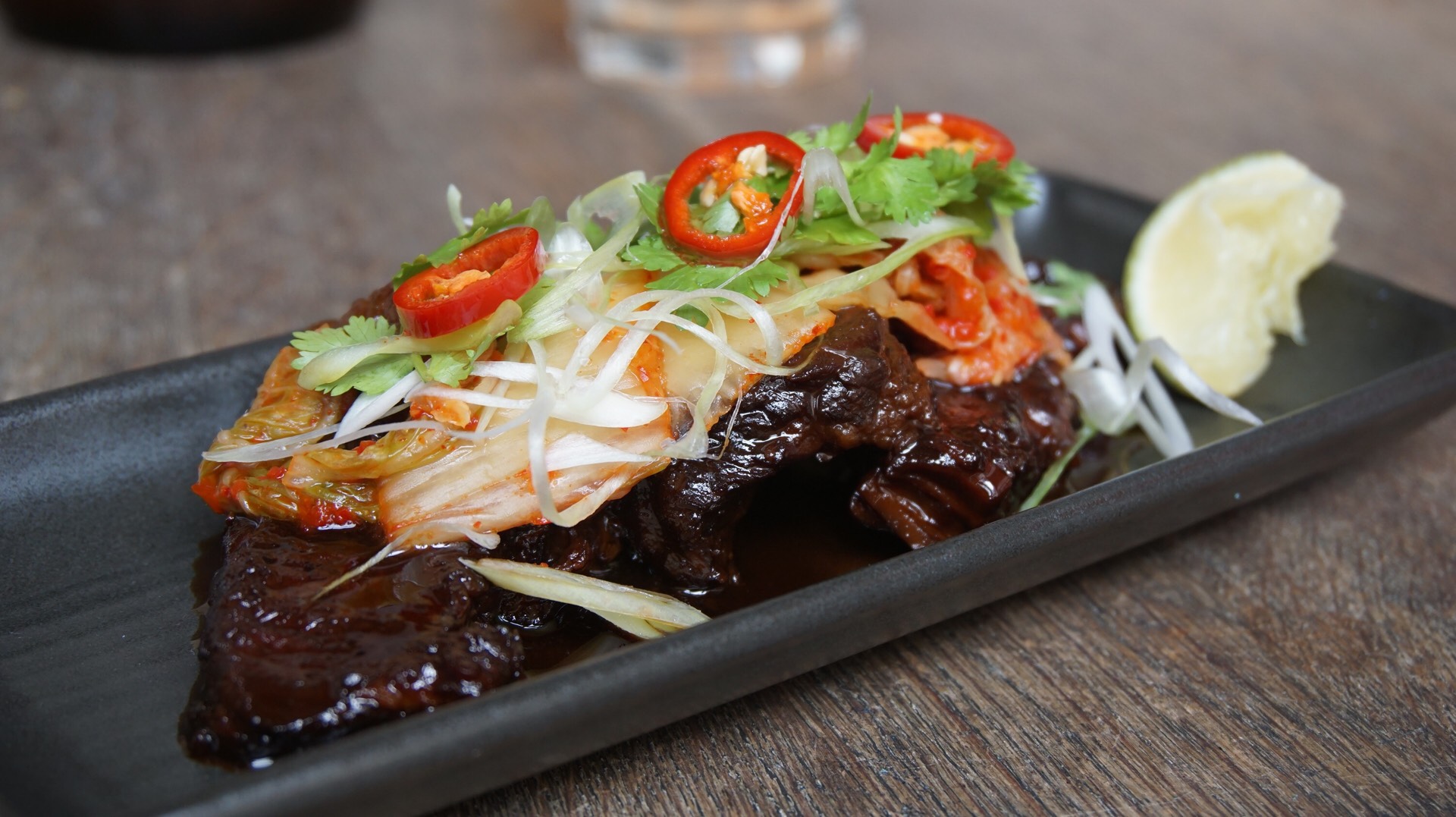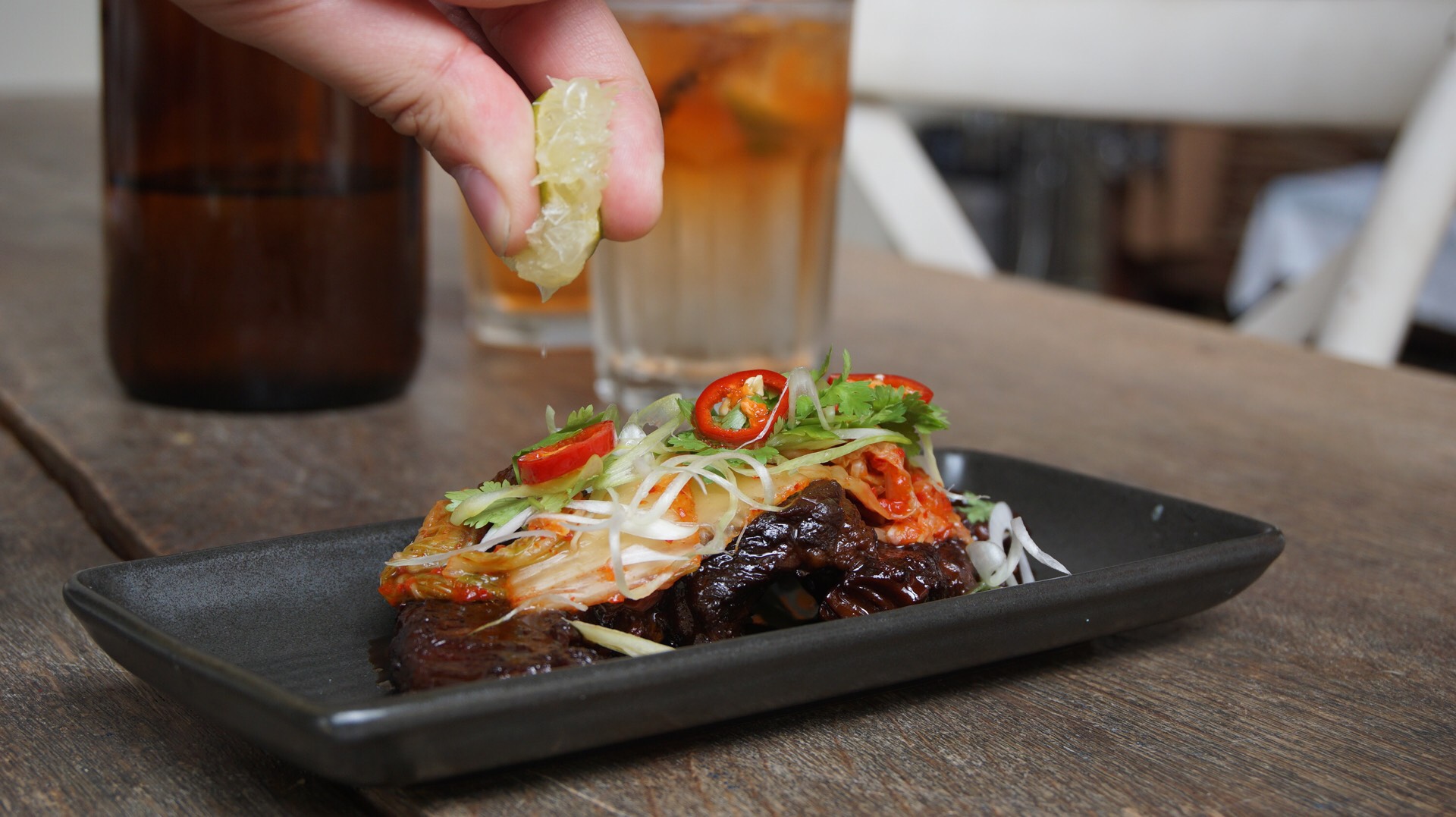 The wagyu rib fingers and kimchi that I always saw popping up in the social media is their best selling dish. I love kimchi and it's an essential part of my daily lunch (or dinner). I was a bit hesitant to order it especially since a lot of restaurants just throw in 'kimchi' in their menu these days. This dish used mat (cut cabbage) kimchi as the topping along with some herbs and cut chilli. Hubby and I loved this dish and the mat kimchi provided crunchy texture and extra flavours to the meat.
The other two dishes that we ordered were beer battered chips with parmesan and truffle oil (yas, so yummy!) as well as the spicy lamb sausage. Those two dishes were a great companion and perfect to be shared.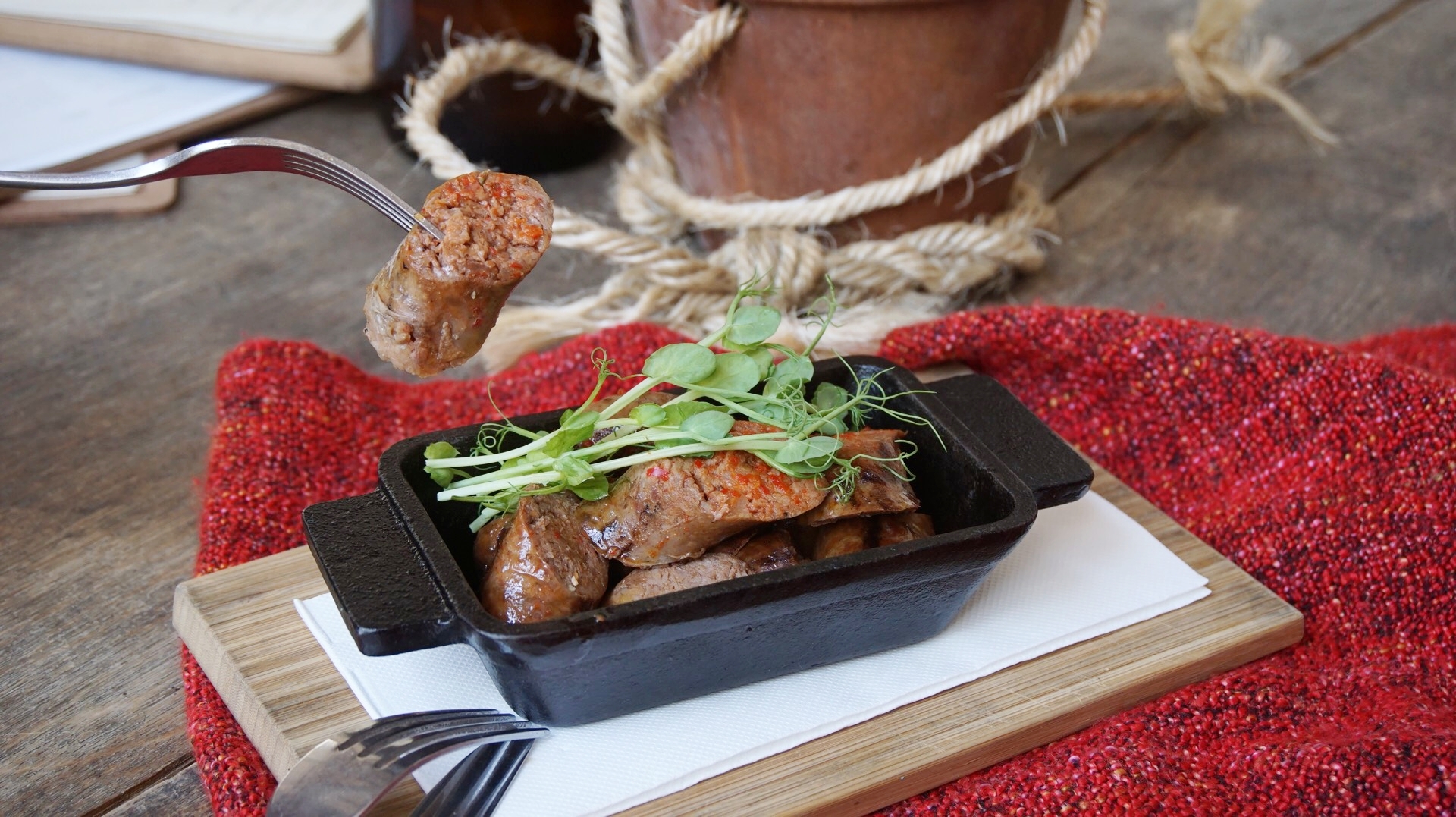 To see Chef Georgi Partenov in action you can use "#georgiporn" when searching on IG. They have some cool behind the scenes photos! I was so humbled when he took his time to walk out of the kitchen and greeted us as well.
Hubby and I had a really great time at Samson's Paddock and our experience that day had convince us to visit the restaurant again in the next two weeks. I hope I'll be able to have a slot for their dessert. I really want to try their three chocolate brownies or the passion fruit tarte! Samson's Paddock is also available in the Entertainment Book, so it's a more reason to check them out!