Grab a Yabby, Mt Lawley (Invited)
Eating seafood at Grab a Yabby was definitely fun but messy at the same time. You will be eating while wearing the plastic bibs and gloves provided but when you eat at Grab a Yabby, you're guaranteed a great experience. That was how we and other foodies felt after we finished a seafood feast provided by Phil and Bec from Grab a Yabby.
Grab a Yabby's food offerings are on a higher price range and definitely not a cheap place to eat but to its credit, this is much more than your run-of-the-mill fish and chips shops or standard seafood restaurant for that matter. The price is more premium but they will provide you with amazing produces from Australia and all over the world.
The Cajun magic dust is Grab a Yabby's special seasoning that they put on their sweet potato chips and crispy prawns. Honestly they can put magic dust on everything and I'll eat it.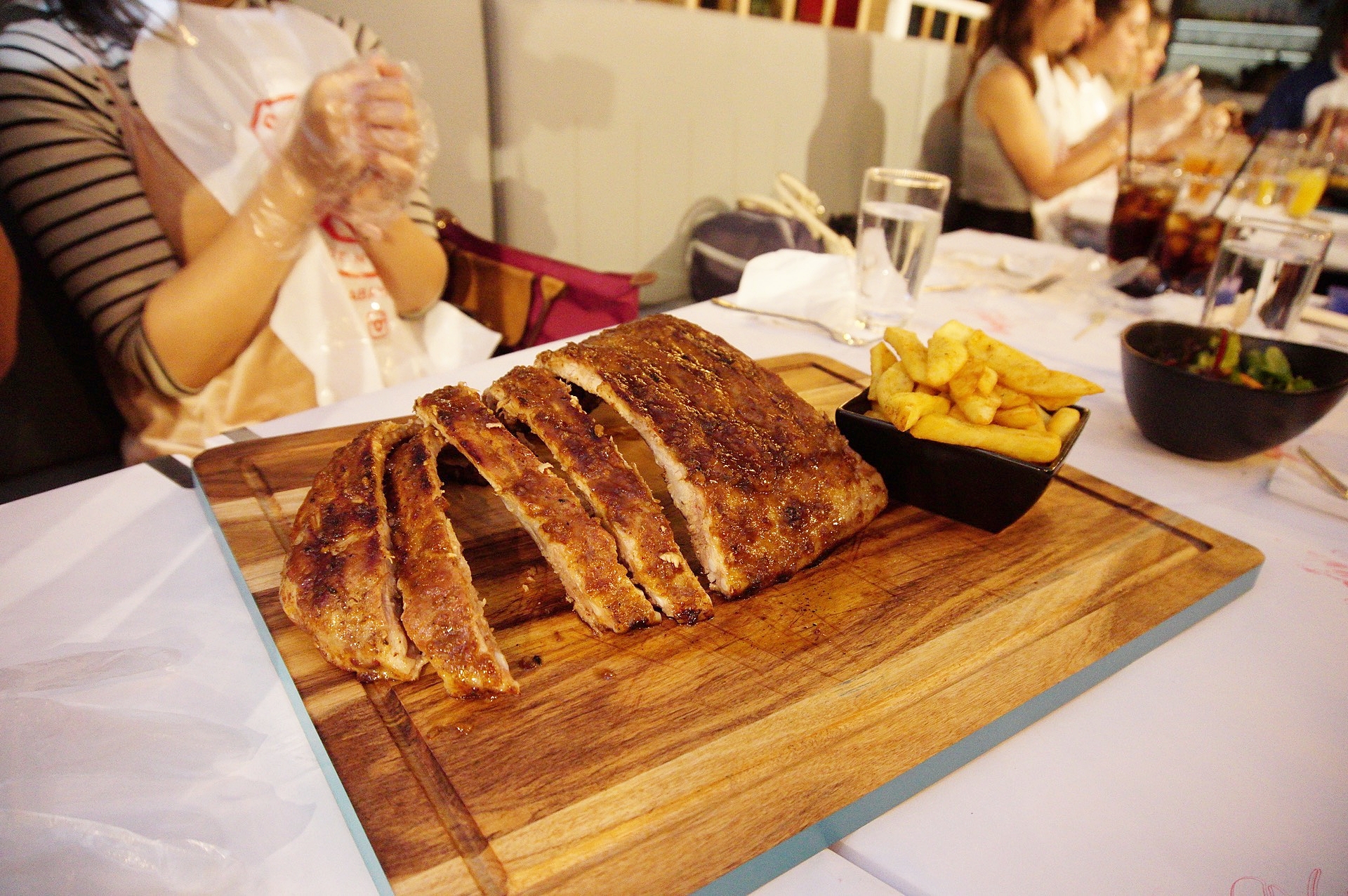 For people who are not to keen on seafood, Grab a Yabby actually sells really delicious beef and pork ribs. The tender beef ribs was to die for! The restaurant reserved their knives and forks for the meat eater but they'll be more than happy to provide you with some cutleries to eat your seafood too ;-). We tried the extremely hot lava sauce with the ribs and I have to warn you that it was HOT. Please steer away from this sauce if you have a seriously weak chili tolerance.
When the Alaskan King Crab Legs made its way to the dining room, we were wowed by the size of the legs. All of us put on our bibs and gloves, we just couldn't wait to dig in. Phil showed us how to cut the crab leg using the shellfish sheller knife. We tried to do it ourselves later on and it was quite easy.
Hubby cut opened the leg and gave me a long fresh crab meat that I smothered with a lot of sauce. I scooped a small amount of rice, made it into a rice ball and dipped it into the sauce. Really yum!
The second seafood bucket that we tried was the Fisherman's baskets. We were so happy that we able to try three different sauces that available at Grab a Yabby. I took 3 different clams from 3 different buckets just to try the difference sauce that they offered: Asian-inspired XO, Moroccan-infused inferno and the Grab a Yabby special Cajun sauce.
The XO sauce was a very familiar sauce to me because I grew up eating different dishes cooked in it. The XO sauce was quite aromatic especially with a combination of chopped dried shrimps, dried scallops, shallots, chillies and fresh lemongrass.
The Inferno sauce packed a bit of heat but really delicious. I really like both of the Inferno and Grab a Yabby special sauce. I decided to dip my yabby in the Inferno sauce after I cracked its shell with the wooden mallet provided!
Next on the list to be eaten at Grab a Yabby next time: Lobster's Tails and the extremely hot Lava Wings! At Grab a Yabby's, the seafood was priced per pounds which makes me need to do a quick calculation inside my head first. 1 pound is equal to 0.45 kg (almost half a kilo).
Grab a Yabby definitely can create a fun experience especially when the food is shared among family or friends. The restaurant is located at the end of Beaux Lane, across Miss Potz and only within 1 minute walking distance from the car park.