XO Tea: The Art of Drinking Tea
I met Peter from XO Tea at PULP about a month ago before my trip to Singapore and after talking about tea for a good hour or so, he decided to invite me to an XO Tea tasting session! That day, Peter left me with a packaging box labelled 'Casablanca', one of many flavours from the Kisses & Hugs range offered by XO Tea.
I was sitting at PULP when I analysed the box that Peter gave. The box has a really beautiful writing explaining the story behind the blend of 'Casablanca'. It also has detailed instructions on how to brew the gourmet tea properly including the length of time, the amount of times it can be re-brewed, water temperature and the amount of loose leaf tea to use.
At the mentioned of loose leaf tea, some other words came to mind such as hi tea, cakes, biscuits, female friends, and ceramics cups. I am an avid tea drinker although not a tea connoisseur by any stretch of the imagine and because of that, I always think of loose leaf tea to be very cumbersome to be prepared compared to other tea bags. I ordered 1000 yellow Lipton tea bags a year ago and I'm sure that the volume almost looks the same now as the first time I opened the box.
I said yes to Peter's offer about tea tasting because I was intrigued. I wanted to learn more about tea because I didn't know much about it outside of my Lipton teabags and the traditional Chinese tea at Chinese restaurants. I ordered fancy tea from TWG café in Singapore but even then I just randomly chose my tea.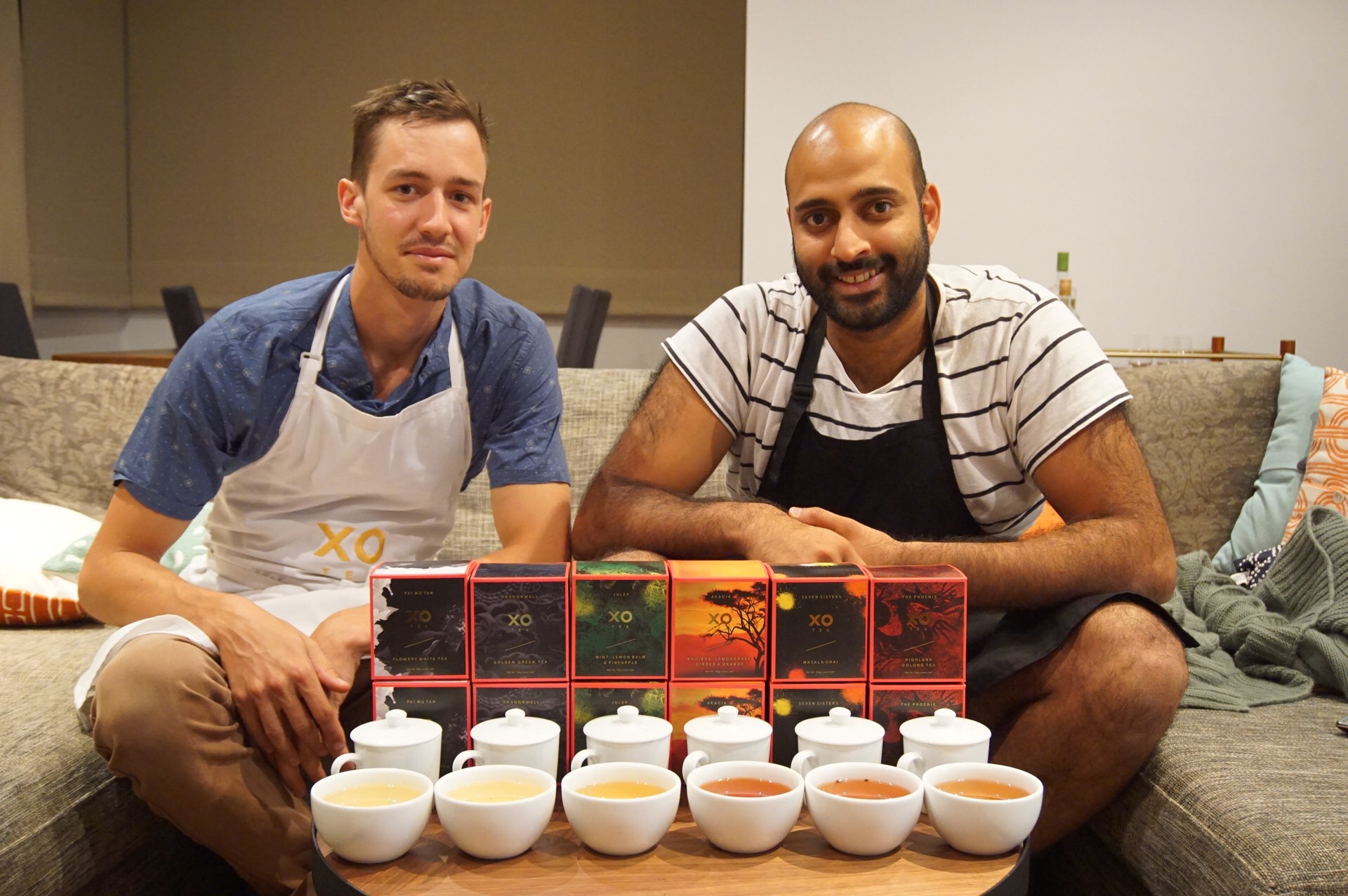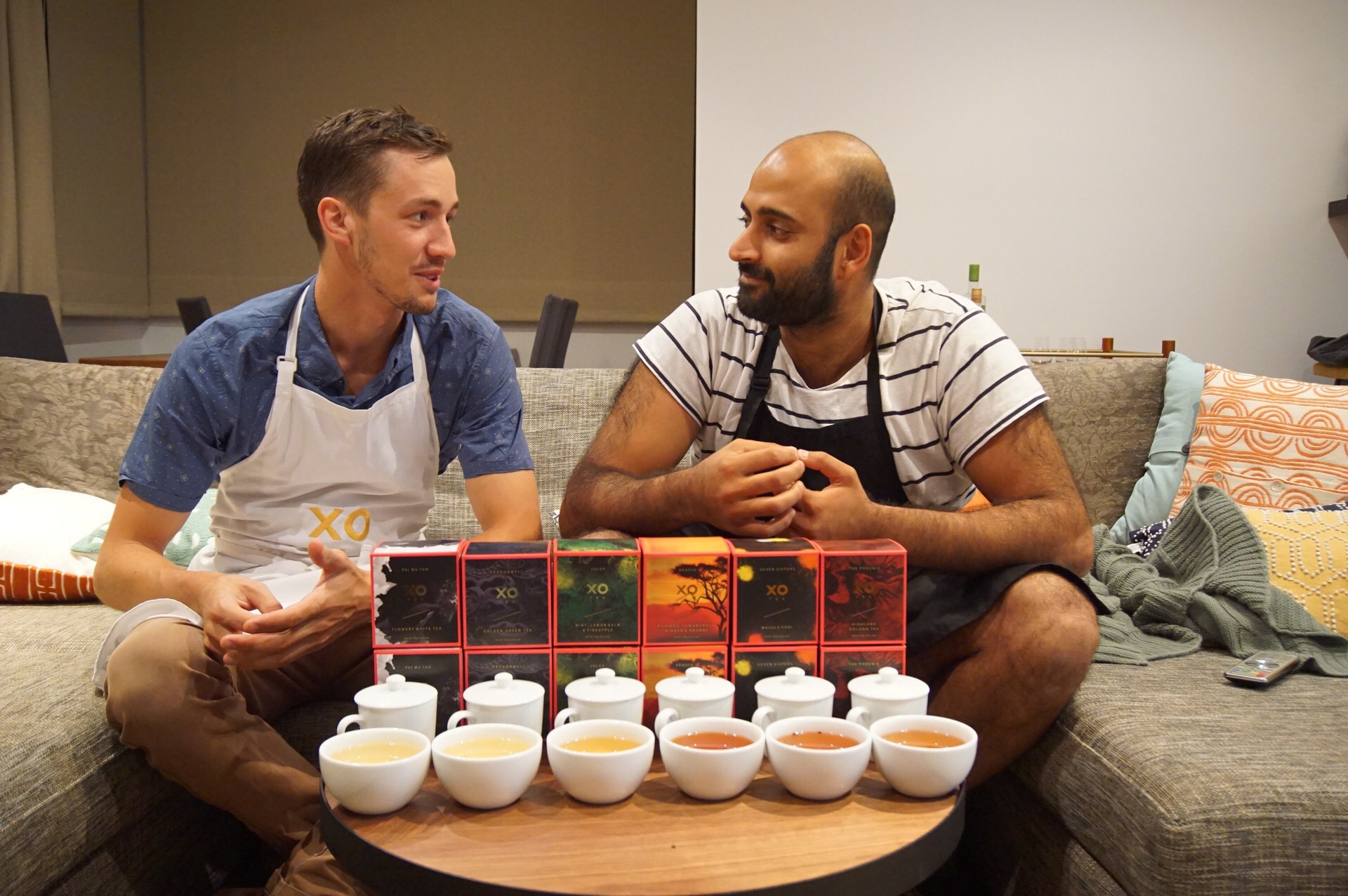 The second reason why I said yes was because I'd love to challenge myself in breaking down my assumption about loose leaf tea. Especially since XO Tea was started by two guys, Arjun and Peter. Peter's day job is a Carpenter and Arjun used to be an Engineer although he's now investing 100% of his time and creativity into XO Tea.
The tea that we tried ranged from white, green, black and even fruity tea with a pineapple flavour! I asked Arjun why he decided to jump into tea rather than other things. Arjun explained that he grew up surrounded by his family's tea plantation in Cameron Highlands, Malaysia so he's very familiar with it. Both Arjun and Peter want to represent high grade leaf tea and make it relatable to the modern lifestyle. Their creative invention can be found through the Kisses and Hugs Collection where Peter put imagery on the XO Tea's box to reflect on the tea blend that they created.
PAI MU TAN – The Silk Collection
Peter and Arjun called this the golden liquor due to the colour that this tea produced. When I first brew it, I thought the colour was very light but after I waited for a good two minutes, my tea changed to a beautiful golden colour! I've been drinking this white tea for a good three days now because of its light and flowery flavour. This tea can be re-brewed up to 4 times and very rich in antioxidants. I wonder if I can use the brewed tea leaves on my face as part of a beauty treatment…
JULEP – KISSES & HUGS COLLECTION
I like the refreshing and sweet nature of Julep especially because it contains peppermint, spearmint and pineapple extract. While all of the XO Tea leaves are sourced from overseas regions, the natural extract was created in Australia and sent to different regions to be blended together with the tea.
THE PHOENIX – OOLONG TEA – THE SILK COLLECTION
The birth of the oolong tea was at the Phoenix Mountain at Guangdong Province and the Phoenix Oolong has enjoyed a high reputation since the Ming Dynasty. This tea was processed in a very controlled environment where the oxidation process only affects the edges of the leaf. I mentioned previously that I drank a lot of Chinese tea at Chinese restaurants and usually I ordered either Chrysanthemum or Oolong. The Phoenix soars far above those with its flavour.
DRAGONWELL – Green Tea – The Silk Collection
XO Tea's Dragon Well Tea or Long Jing Tea originated from Zhejiang Province in China, where the area receives plenty of rainfall all year-round. This emerald coloured tea is the most famous Chinese green tea and compared to the Japanese Green Tea, it tasted lighter, buttery and sweeter.
7 SISTERS – Masala Chai – Affinity Collection
The Seven Sisters of North East India is one of the most diverse and interdependent regions in the world and shared its border with different countries such as China and Myanmar. Due to its diversity, the region also offers exotic spices to the world. It's a perfect name for the Masala Chai blend which contains some spices that were easily found a curry's base: cinnamon, cloves, and cardamom.
AKACIA – KISSES AND HUGS COLLECTION
Akacia's box has a picture of an umbrella shaped Acacia tree, one of the major trees of the African Savanna which was mainly consisting of grassland and small bushes. Rooibos is the important ingredient in this blend which was mixed really well with a little bit of ginger and lemongrass.
Through the tea tasting I learnt that each blend and tea has its own story, I also understood more about the different origins of each tea leaf and how they were handpicked at different times. Arjun also went on to explain about the oxidation process after tea leaves were plucked from the tree which was quite technical but interesting at the same time.
In the future XO Tea aims to develop a relationship with White Ribbon, a domestic violence group run by men through $1 donation of each of their 'Empress' tea sold. Their purpose is to create a greater equality between male and female which will be represented by their Earl Grey infusion, a blend which was created during the time of gender inequality.
How to Brew:
XO Tea has prepared different instructions for different tea, so the first step will be to check how hot you should brew your water for. I used my digital kettle that I bought at Kmart for this because the kettle has 5 programmed temperature settings.
I took 1 tbsp of tea leaves and a bit more because my tea infuser contains more than 200ml of water. The leaves are different in sizes and smells beautiful.
The instruction said that I can brew it for 1-2 minutes so I opted for 2 minutes just to make sure that it will turn into a golden liquid.
Last step is to pour the finished product and sip it slowly. I was watching Daredevil 2 while sipping my Pai Mu Tan... ;-D
Tea is such a perfect drink to be enjoyed during the down time when you're not rushed by work or due dates. Hubby and I have been drinking tea for the past 5 days in a row now especially since I found that it was very easy to prepare the gourmet loose leaf tea.
If you're reading this that means you are ready to jump into the world of tea. I hope you will find the same enjoyment that I found in learning more about tea. Thank you Arjun & Peter!