Experience Amazing Fukuoka in Three Days
A charming prefecture, I never thought about going to Fukuoka until I won the #fukuoka_tonkotsu competition that was run by the Fukuoka Prefecture, Japan. In fact, I didn't believe that I had won the competition for 5 days and 4 nights all expenses paid trip to Fukuoka. Because…who wins that sort of thing anyway?! I was one of the fantastic 4 to be chosen by them! Soon, bags were packed, winter clothes and a thermal were rolled neatly into the suitcase, and I was super ready to go.
To get into Fukuoka, I took a 7:10 am JAL flight from Haneda Domestic Airport in Tokyo 🚀. Dare I say, it was one of the most beautiful flights I had experienced. I rarely fly in the morning and to see the sun rays kissing everything was a beautiful experience. Check out some photos below and you'll see what I mean 💟.
DAY 1 FUKUOKA ITINERARY
CALLIGRAPHY AND SUSHI MAKING 🍣 WITH SUiTO FUKUOKA
In my itinerary that JTB Fukuoka provided, my day started at SUiTO FUKUOKA. SUiTO Fukuoka helps foreign visitors learn more about Japanese culture and the city of Fukuoka through different activities such as calligraphy, mentaiko tasting, and Japanese breakfast cooking class.
Our group learnt about Japanese calligraphy (shuji) and sushi making. The calligraphy class was really interesting, because we were taught about the basic strokes, equipments, as well as proper posture when doing a calligraphy. I chose hana/flower (花) as my word. Not bad, right? I just need to frame it properly!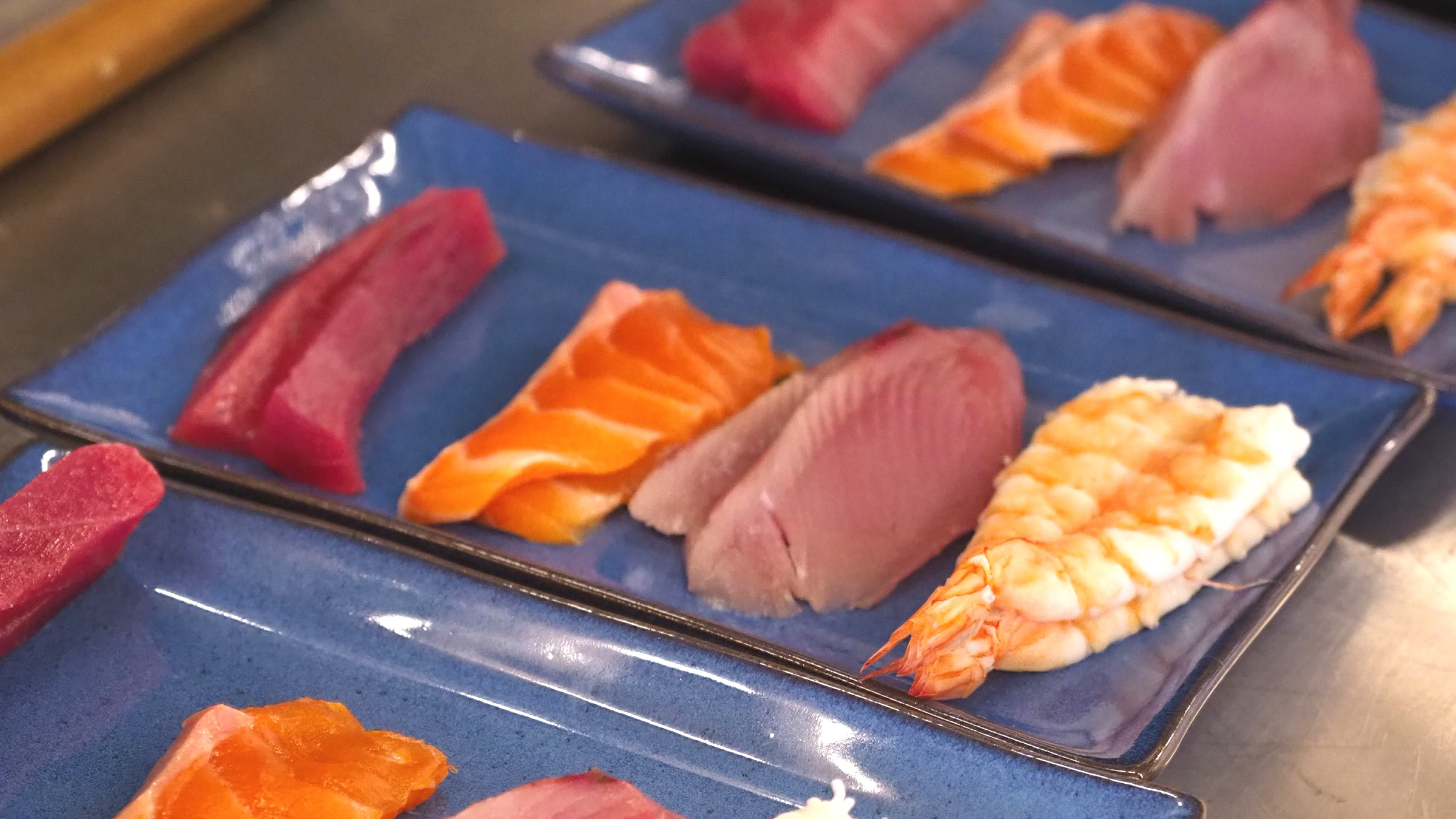 After that we had a sushi making class, which turned out to be our lunch for the day. I love how the professional chef Sakai was. He used to work in Sydney and loves Australian beef so much. Yes, we have something in common, Mr Chef! 🍣 (sushi emoji, because it looks cute)!
KIMONO EXPERIENCE & DAZAIFU TENMANGU SHRINE
The second part of the day was spent visiting the famous Dazaifu Tenmangu Shrine. Every person who has been to Fukuoka will recommend this place to you. We went to Dazaifu using the special train called Tabito Train. 🚆 Tabito Train is decorated very well inside and outside with different patterns on each carriage, so don't forget to take a photo of it and get yourself a cute Eki stamp!
When we arrived at Dazaifu, we made our way straight to the kimono place called 🎎 Kimono Hanamizuki. Each staff was really quick in helping putting on our kimonos. The girls got a special hairdo with a Kanzashi (Japanese hair ornament). All of us (including the men) wore a special handbag that matched well with our kimono, then we made our way to the shrine.
The beautiful Shinto Shrine was dedicated to Tenjin, the god of academics, scholarship, and learning. A lot of students go to Dazaifu Tenmangu Shrine to pray and purchase various type of charms that will help them in passing their exams. Dazaifu Tenmangu is surrounded by beautiful plum (ume) trees with cute flowers. Here we also learnt to use a chozuya properly:
Chozuya is a water filled basin that is used to wash your left and right hands, mouth, and the handle. This is a purification process that needs to be done before you can approach the main Shinto Shrine.
On the way back to the kimono shop, we passed through the most beautiful Starbucks with woven wooden lattice, designed by Architects Kengo Kuma and Associates, the same people behind Tokyo's 2020 Olympic Stadiums!
DINNER DAY 1: DAIMARU BESSO
Established more than 150 years ago, the 5-star Daimaru Besso is a famous Ryokan (traditional Japanese inn) in Fukuoka and occupies around 25,000 sqm land area! I walked around with Larry and Guan in the morning, and we felt like we were the only guests in the ryokan! It's only when we went to the onsen during the peak hours that we realised that there were other guests too. The onsen at Daimaru Besso came from a natural spring and there are fun activities that you can do at the Ryokan, such as drinking the complimentary coffee or tea at the beautiful lounge, playing a game of table tennis, karaoke, and ring throw.
I was super looking forward to our kaiseki dinner, and can't wait to see the presentation and display. I chose fish for my main meals, but the rest of the group went for beef instead! Mariya gave me a tester and the beef was amazing. Here are some of our appetizers: cheese enveloped with dry persimmon, raw venison, whale meat with vinegar soy, and abalone. This isn't even a full list! 😎😄
After a numerous glasses of sake and food, we just wanted to roll around on the tatami in the dining room. Mariya informed us that Fukuoka is also famous for its pottery and ceramics. Each plate and ceramic food containers looked really beautiful and very well made. Hopefully one day I can see the villages of ceramics 💛
DAY 2 FUKUOKA ITINERARY
We started our day with a beautiful Japanese style breakfast at Daimaru Besso before heading out to Ichigo Kirari Strawberry Farm.
ICHIGO KIRARI STRAWBERRY FARM 🍓🍓🍓
Strawberry farms in Australia is all about picking the best looking strawberries and putting all that we picked in a big cardboard box. Ichigo Kirari offers a very different experience! Check out my IG TV story here.
We got to do strawberry tasting from a variety of strawberries available there for 40 minutes, basically all-you-can-eat strawberries! My favourite was Benihoppe (Red Cheeks or Japan First Love Strawberry), which was developed in 2002. It was super juicy and really red in colour. No wonder strawberries can be a premium gift in Japan!
Another beautiful strawberry was Awayuki, very seducing with its light pink colour. The inside is light pink in colour too! Growing Awayuki means giving the strawberry some restriction of sunlight, so the colour will be pale in comparison with normal strawberries. Ichigo Kirari doesn't accept any walk-in guests, so it'll be better to reserve in advance. For an extra 100 yen, you can pick some strawberries to put in the takeaway box (wow)! 🍓🍓🍓
YANAGAWA TACHIBANA-TEI OHANA & STEAMED EEL
I ate the best steamed eel from Yanagawa OHANA restaurant. We were put in a private dining room with a fantastic view of the pond and garden. We were in awe when the staff slid the door and revealed the view. The former feudal lord created the garden for his wife, so she didn't miss her family too much. It was such a romantic story!
Our steamed eel (Unagi no Seiro-Mushi) was cooked so perfectly. Unagi no Seiro-Mushi is a must try dish when you visit Yanagawa. It took about one and a half hour for the meal to be prepared and cooked. The sauce soaked rice was cooked separately with the eel. The eel was grilled in kabayaki style before they steamed it together with the rice. It was flavourful and I really wanted to savour every bite of it. Don't discount the rice as it was also the star of this dish, especially since it absorbed all of the flavours.
TACHIBANA MUSEUM & OHANA HOUSE
Yanagawa was a castle town under the Tachibana clan, and the castle was called a water castle due to many moats that surrounded it. We visited the Tachibana Museum and the summer house after our lunch. We got to see different style of sagemon, samurai clothes, beautiful dolls, as well as the main hall of Ohana house. Ohana house is a great and elegant wedding venue, no wonder we saw a couple of brides and grooms who got their photos taken when we were there.
YANAGAWA RIVER CRUISE
Checking out the river and Yanagawa area on a Donko boat was an enjoyable activity. The boat is available during all four seasons, but in winter we got a treat of having kotatsu (heater tables) on board of the boat. You can charter a boat by making a reservation in advance or wait until the boat has around 10 customers on it. The Sendo (boatman) 🚣 usually sing a couple of songs as he rowed the boat, check out this IG TV video.
SHIRO KUNIMITSU 🔪
Shiro Kunimitsu was first established in 1786. We went there to learn about the art of sword making, which I think was quite laborious. For the blacksmith, there is a constant pacing forth and back from the bench to forge the metal, to the cooling process, to the bench again, and the cooling process again. It was all to ensure that they get the perfect sword. After we learnt about the making of the sword, each of us was brought outside to use the sharp sword!
Our target was a rolled up tatami and we had to use all of our energy to swing our sword downwards. Yes, downwards. The sword automatically moved sideways to slice the tatami. It was crazy! It's similar to the sashimi knives that sliced sideways.
These days, Shiro Kunimitsu produced kitchen knives as well with the same method that they used on their sword. Guan purchased one of their knives 🔪 and it was fun to see how he tested a few knives on a chopping board.
DINNER DAY 2: KUSHIKATSU TANAKA 🍤🍻
Dinner was really interesting. We went to a chain Kushikatsu restaurant, and ordered some highballs to start with. I feel that Japanese people really love their whisky highballs! It's very rare to see someone order a glass of highball in Australia. Suntory brought back highballs to trend in the mid-2000s 🍻. My highball came with chopped up pickled ginger, which gave the drink an interesting colour. It tasted quite good too!
Then we had two trays of D-I-Y Takoyaki for our tables. It was a great group activity. We even had to mash our own potato salad, which was really yum! I was sitting in the middle of two groups, so I got to try takoyaki from group A (Mariya, Reiko, Ishmene), or group B (Guan, Larry, and Renee).
Just like other kushikatsu restaurants, double dip is a big no-no. If you want to add extra sauce, then the lettuce leaf is there so you can pick up more sauce and pour it on your kushikatsu.
Day 3 EXPLORE FUKUOKA
This was a free day for us, so I'll drop down some suggestions that you can try below, but before that I wanted to highlight the special dinner that we had with the JTB Fukuoka and Fukuoka Prefecture team!
DINNER DAY 3: ISHIKURA BREWERY HAKATA HYAKUNENGURA 🍶
It was our farewell dinner, but there was no use in putting up a sad face because we had a lot of great memories in Fukuoka. The night was filled with a fun drinking game and refreshing cold sake. Ishikura Brewery Hyakunengura has been around for more than 140 years. Inside the historical building, we had a wonderful feast of Mizutaki (Chicken Hot Pot) 🍲. The mizutaki was really hearty and full of flavour. There's yuzu pepper and salt on the table that we can use to add extra flavour to the soup.
Each of the Fukuoka Tonkotsu participant was given a beautiful Happi coat with special Hakata crests printed on the sleeves. It's super authentic, because Hwami designed it herself! There was also a banner with 'Fukuoka Tonkotsu Ramen Ambassador' written on it. I love the gift and will be sure to cherish it all my life!
GYUKATSU MOTOMURA
I was so lucky that Gyukatsu Motomura is only 2 minutes walking distance from my hotel, Comatsu Premier. The restaurant opens at 11 am, but people were lining up since 10:30 AM. I always think of Gyukatsu Motomura as the place that served the best beef katsu in the world. Yes, lining up is definitely worth it. If you can't try this in Fukuoka, Gyukatsu Motomura also has several outlets around Japan.
TENJIN UNDERGROUND SHOPPING
Hwami showed me the way to Iwataya underground shopping mall one day, and I ended up exploring the whole nook and cranny of it. The 590 meter underground walk that was built underneath Tenjin will help you get to the train station as well as different shopping malls in Fukuoka. It's actually crazy cool. The only thing to remember is to look up and see the sign, you don't want to miss a turn! I was so proud when I told Larry that we could use the underground shopping area to avoid the rain (heheh).
HAKATA STATION - FUKUTARO'S MENBEI
Hakata Station is so cool, because you can find a lot of souvenirs in one place. It is also the busiest and largest station in all of Kyushu. There's a cinema, Tsubame No Mori Hiroba rooftop garden, and AMU Plaza Hakata at the station. There's also three-stories Tokyu Hands there, so I let out a small squeal when I saw it! Tokyu Hands is one of my favourite shops in Japan.
One staple gift that you really need to get from Fukuoka is Fukutaro's Menbei (Mentaiko / Spiced Cod Roe Rice Cracker). I can't bring any mentaiko into Australia and it won't last that long, so the solution is in the Mentaiko Rice Cracker! You all owe it to Yamaguchi Aburaya Fukutaro to come up with this genius snack! Fukutaro also has a factory tour where you can try different flavour of their rice cracker. Since time wasn't on my side, we went to the Hakata Station's Fukutaro stall. Larry explains that Hakata Station sells the limited edition flavour such as chocolate, cheese, and sea urchin! My favourite flavour is the extra spicy (red and black box), it was so yum! I also found the special mentai butter flavour at ANA's Feast at Fukuoka Airport.
ROPPONMATSU'S FAMOUS MENTAIKO OMURICE
Larry took us to Ropponmatsu for a delicious plate of Mentaiko Omurice at 五穀 (Five Grains). The restaurant seats around 16 people in total and has an English menu available. Larry, Ishmene, and I opted for the lunch menu set, a good 900 yen for omelet rice with seasoned cod roe (mentaiko), corn salad, small dessert, and a glass of drink. You can get a large portion for an extra 150 yen, but the normal portion is already quite generous. To be honest, we had a difficulty finishing our rice (hahaha).
If you want to find it in Google Maps, just search under "五穀 Fukuoka". The address: MJR六本松, 4 Chome-2-6 Ropponmatsu, Chūō-ku, Fukuoka.
While at Ropponmatsu, you can also visit Fukuoka City Science Museum, curated by Mr Astronaut Koichi Wakata. We didn't go in due to our limited time, but I'd love to go back to see the planetarium. The planetarium is 25 metre in diameter with 3D digital surround system.
COFFEEMAN, ROPPONMATSU ☕
Larry then took us to the a coffee shop run by award winning barista, Takaomi Eguchi. The shop is called Coffeeman. I love a good black coffee, so I was super excited to try this place. You choose your cup based on the level of roast. The smaller number indicates light roast and it goes up to a higher number. I tried their house blend number 64, while Larry opted for single origin 78. The Japanese menu will indicate whether your coffee is of single origin or a blend coffee.
Single origin 78 was using Indonesia's Mandeling from Sumatra Island. It was dark, rich, and smooth. Mandeling is grown on a volcanic slope of Mount Leuser. Each cup will comes with a piece of paper that explains more about the bean. Mine was an all-around coffee, which means it's good to enjoy it by itself, or with milk. It wasn't too strong, but it was a bit acidic without milk.
ICHIRAN RAMEN 🍜
Ichiran is a must have whenever I visited Japan. It's like a tradition that I do for myself. Before I head home on my last day, we had Ichiran ramen for breakfast. The bowl was so beautiful, it looks different to the usual Ichiran ramen bowls. I was super familiar with the round and five-sided bowl, but not the rectangular one! I always have the spicy extra firm noodle with extra garlic and green onion. I want to try level 5 spiciness next time ;-)
MANU COFFEE
There's a very cool coffee shop within 3 minutes walking distance from my hotel, Comatsu Premier. One of my followers @polkadot_coffee told me about it. I walked there alone since I already said goodbye to everyone. It was a perfect venue to reminisce, write, and think about what happened so far during the Fukuoka trip.
Manu is located in an alleyway behind the busy Kokutai Street and I totally missed it. I traced back my step and saw a big menu outside of the coffee shop. It took me a while to choose the coffee that I want, especially since I wanted something comforting. I decided on Jantique. It looks beautiful and it has honey in it, so it was quite soothing. The coffee at Manu was great, but another amazing thing is their song playlist that they chose according to the weather and time of day.
Heading Back to Perth 😫😢
What you see above is only a tiny slice of what we can do in Fukuoka. I uploaded some videos to my IG TV account and story. Despite the city not being as famous as Tokyo or Kyoto, Fukuoka holds its own charms. It's very close to the airport and there are beautiful scenery and places to visit, such as Shinakoshima Island and Maizuru Park. I haven't visited Canal City Shopping Centre, the textile museum, and a lot of other places in Fukuoka. Three days are certainly not enough! I hope this will give you some ideas on where to go and places to eat at when visiting Fukuoka.
A big shout-out to Fukuoka Prefecture Tourism Division for making my dream of visiting Fukuoka happened, and the friendly peeps at JTB Fukuoka. Not only we won a trip to Fukuoka, but we made friendship along the way too. We'll share more sake, soba, and sweet memories the next time I visit Fukuoka! :-D
"Travel isn't always pretty. It isn't always comfortable. Sometimes it hurts, it even breaks your heart. But that's okay. The journey changes you; it should change you. It leaves marks on your memory, on your consciousness, on your heart, and on your body. You take something with you. Hopefully, you leave something good behind."

ANTHONY BOURDAIN
FUKUOKA VLOG:
Check out this amazing VLOG from From @del.ish.ious (Ishmene):