My Bayon Cambodian Food
My Bayon is a Cambodian restaurant located on William Street. You probably recognised the name from when they were at Fremantle Market. Vee and her family run My Bayon for a few years already. We went there when it first opened for a few weeks in early September.
Vee was very friendly. She informed us that the name of the restaurant was inspired by the Khmer temple named Bayon in Siem Reap, Cambodia. It's a temple of many faces. Vee wanted to bring more awareness about Cambodia and its history to people of Perth. In the restaurant, you can find some books about Cambodia as well as mini decorations.
As soon as we were seated, we got so excited checking out the list of items in the menu. Vee explained that Cambodians food were inspired by surrounding countries such as Vietnam and Thailand. We chose two meals from the Chef's Recommendation, Five Spiced Braised Pork Leg and Ah Mok. We also added Stuffed Chicken Wings and Char Grilled Chicken Satay for the entree.
Both entrees were cooked so well. The chicken satay was really tender and served using house-made peanut sauce. I could really taste the peanut. They have a takeaway package for the peanut sauce for $9 as well as their chilli paste.
The fried deboned chicken wings were stuffed with marinated pork mince, vermicelli noodles and mushrooms. It was yum. Sometimes I found this dish at a few Vietnamese restaurant as well.
Ah Mok was really delicious. It was a traditional Khmer curry dish where our Barramundi fish were slow cooked in banana leaf with kaffir lime leaves and spices. Everyone loved this meal, and it was quite light as well.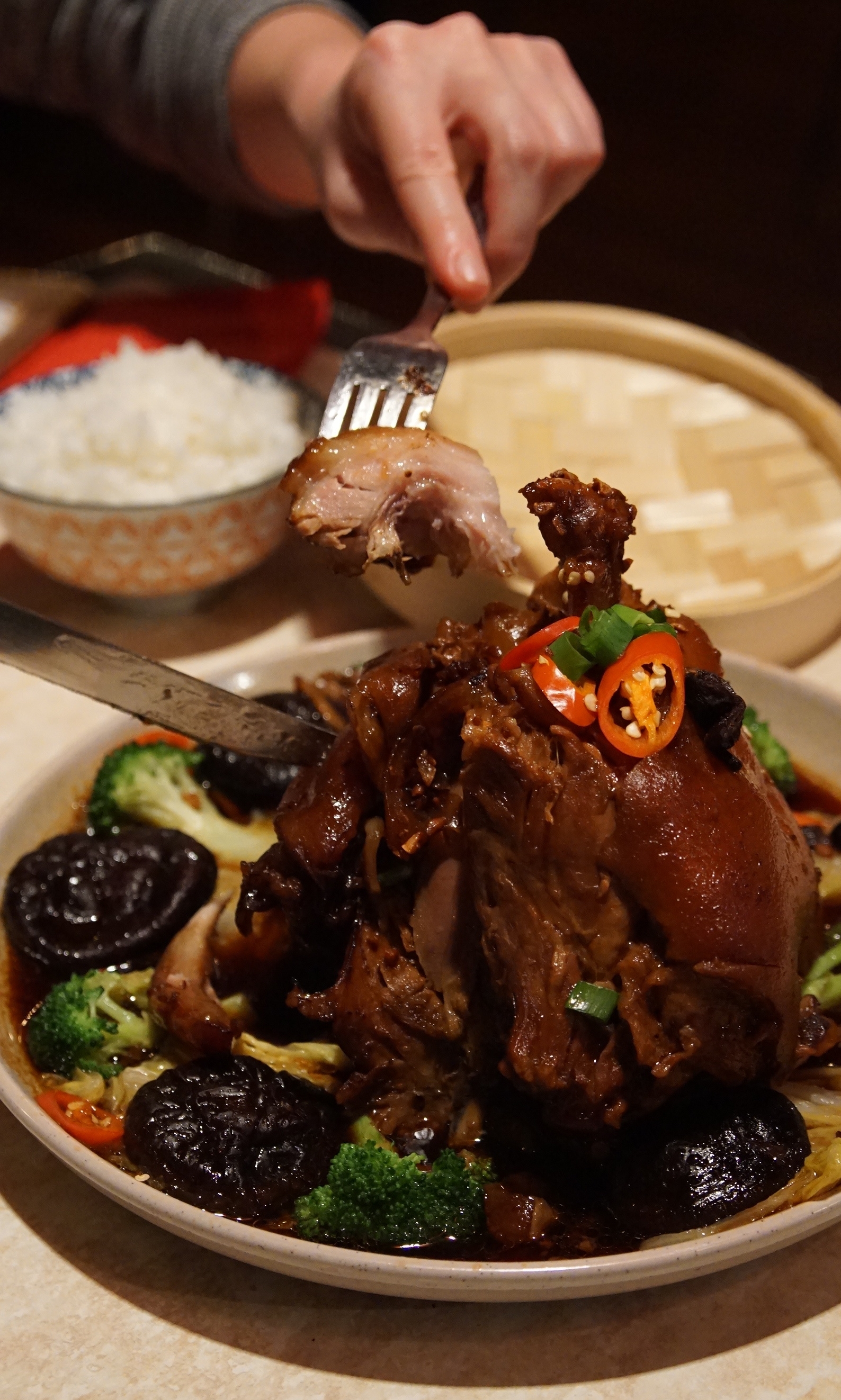 The portion of Five Spiced Braised Pork Leg was quite huge. The slow cooked pork leg was braised in five spiced sauce, served on a pillow of steamed wombok and shiitake mushrooms. If you're looking for something hearty, definitely go for the pork. It was really filling for the three of us. We ended up taking away some for next day lunch.
If you're looking for a different kind of Asian food to try, My Bayon is a good option. The location is quite central, and they also accept a group booking. I hope a lot more people will try delicious Cambodian food soon.