High Tea at Measure Bar
Measure Bar by Karmen Lu and her partner, Ryan, has made their mark in Perth's dessert scene with their creative and delicious desserts. Not only that, but they also know their cocktails. The Summer Solstice that I tried was really impressive. It was a combination of St Germain, 42 Below feijoa vodka, lemon and pineapple kiwifruit.
When I visited the bar with my friends, I had a chance to try their Earl Grey, Apple and Yuzu Brulee. I made the right choice with my Apple Terrine ;-) but unfortunately, the dessert has since got taken off the list to make way for the new spring items.
The second time we came back was for their high tea. Every Saturday and Sunday they will hold the savoury and sweet high tea from 12 pm - 3 pm. Each high tea will come with three tiers of deliciousness and two selections of drink from tea, coffee, and soft drinks.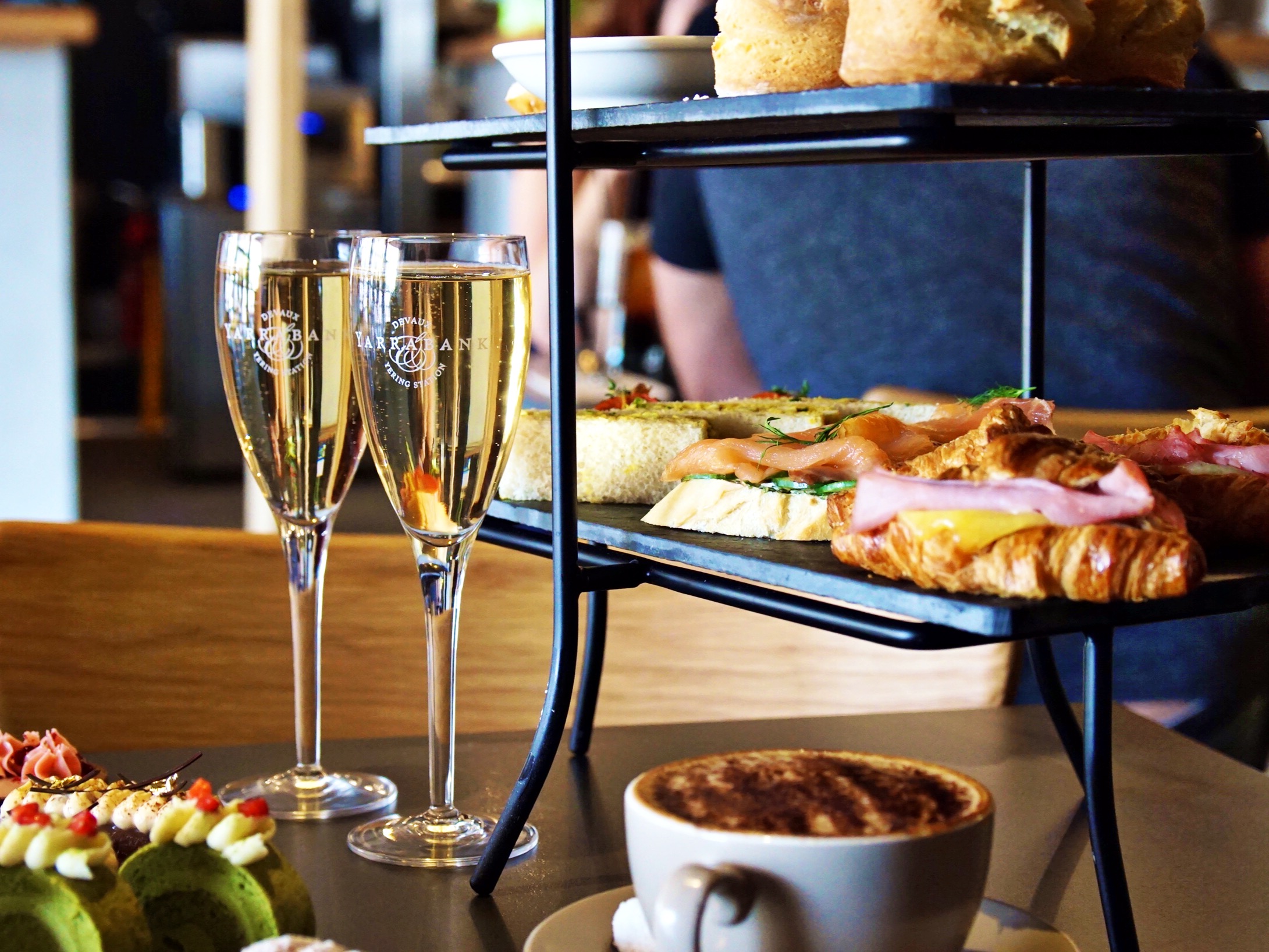 Extra $5 (per person) will get you a glass of Yarrabank Cuvee. We also tried the yummy 55% dark hot chocolate that came with a big house-made marshmallow. It looked a bit like a white tofu when I first saw it, so cute!
Ryan informed us that they rotated and changed some of the items on the high tea. Following the proper etiquette to serve high tea, I noticed that finger food and sandwiches were put on the bottom tier. Delicious madeleines and scones on the middle level, with cakes and tarts on the top row. Everything presented so neatly and thoroughly.
All of us were really impressed with Measure's Ham and Cheese Croissant that I hope they will sell it at the counter one day (hehe) or just let it stay on the high tea menu. Other savoury dishes that we had that day were curried egg sandwich, smoked salmon bruschetta, and delicious quiche lorraine with creamy bacon filling on caramelised onion on top.
We halved the scones, so we didn't get too full and able to finish the cakes and tarts. The golden scones were moist and tasty, especially with the jam and cream. The scallop-shaped madeleines had crisp edges and also tender on the inside.
The top tier was the one that we looked forward the most. We had Ferrero Rocher chocolate cake, zesty passionfruit filled cannoli, Matcha swiss roll and raspberry tart. By the time we finished the whole high tea, we were ready to roll out the door.
Measure Dessert Bar serves a generous portion of high tea. With the minimalistic and elegant venue, you can definitely consider Measure Bar when looking for a good time out with your partner, friends and family members.