Indian Food Feast at Auntie G, Fremantle
When I walked into Auntie G in Fremantle, I remembered vividly dining there with my friend who was pregnant at the time. Back then Auntie G was still Maya Restaurant. We had really great Indian food there and it was raved about as one of the best restaurants that served Indian cuisine by a few of my friends. Maya Restaurant is no longer there but the same owner re-branded Maya into Auntie G.
I always love a good storytelling. In the menu that we received, there was a quick story of Auntie G. The word 'ji' (G) was used in India to convey respect and there were a lot of Auntie G in the owner's childhood memories. Auntie G was a celebration of childhood memories, great food and meals to be shared among family members.
If there was an award for the best meal of the night, I'd easily give it to the Banana Leaf Fish BBQ. It was barramundi fillets that were cooked together with lemongrass, red onion and chilli sambal. It had a good effect on hubby, he couldn't stop talking about how delicious it was. We met some friends yesterday and when asked about Auntie G, he just said, "You need to try the fish wrapped in banana leaf."
We ordered basmati as well as South Indian style lemon rice but we ended up eating more of the latter. I feel that one bowl of rice is more than enough for two people. The lemon rice was perfect with all dishes, especially the fish.
Another dish that I really enjoyed eating was Mother in Law's Tongue that was served together with two stacks of string hoppers (also known as idiyappam in Sri Lanka), delicious coconut sambal and chicken curry. This was the hottest dish in Auntie G but also really delicious. The string hoppers were light, lacy and bouncy. I cut a small piece of string hoppers, mixed it with the gravy, chicken and heaps of coconut sambal and ate the whole thing in one mouthful. So yum!
The Lamb Momo was a great entree and priced per dumpling at $3.5. It was served with really tasty tomato chutney. We also enjoyed a serving of Garlic Naan and Lamb Curry.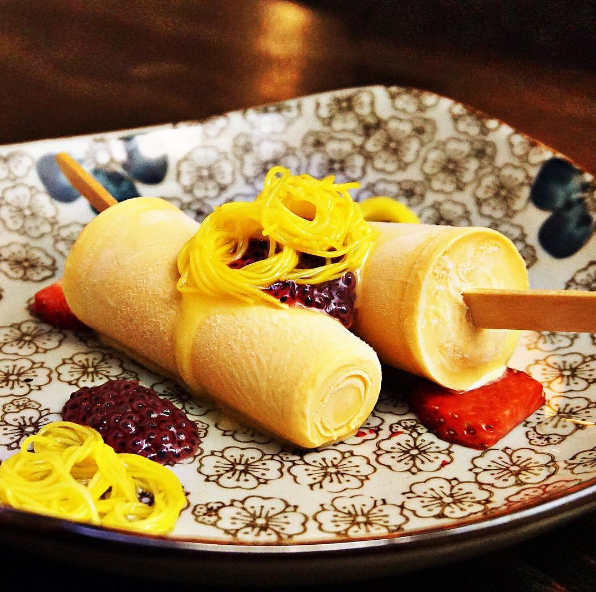 Accompanied with yellow vermicelli, sabja (basil seeds) mixed with falooda and fresh strawberries.
The Mango Kulfi was a perfect end to our Indian feast. It was creamy, dense and retained a lot of mango flavour in it. I really like the chewy texture of the yellow vermicelli when eaten together with the kulfi. The presentation was really cute.
Auntie G definitely won our hearts with their food offerings. The staff were really friendly and informative too. Their recommendation for food of the night was on point. I noticed that Auntie G offers a $42 set menu for minimum 4 people that lets you try some of their best dishes. I am so glad that Perth has its own Auntie 'Ji'.